This partnership will help Salmon Evolution autonomize their feeding process, resulting in a significant reduction in wasted feed, increased consumption, and stabilized water quality. 
Salmon Evolution has plans to produce 36,000 metric tons of salmon in Indre Harøy, on the Norwegian coastline. First smolt release was this weekend.
Salmon Evolution has also announced partnerships with Imenco for camera manufacturing, and Cargill for feed production.
"Using artificial intelligence to make better decisions and to make the feeding of our salmon autonomous has been high on the agenda for us since we established Salmon Evolution. We found a promising solution with ReelData`s technology and dedicated team of experts. The conditions in land-based farming forms a basis for optimizing the appetite and fish welfare, and enables us to be proactive to create the best possible conditions for our salmon to thrive in," said Ingjarl Skarvøy, COO of Salmon Evolution, in an announcement.
This new agreement shows ReelData's commitment to partnering with the most innovative farms and technology suppliers in the land-based aquaculture industry.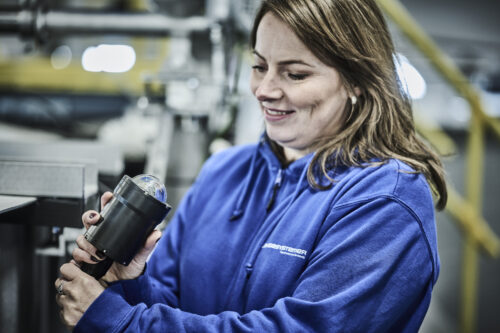 "We are incredibly proud to bring ReelAppetite to Salmon Evolution and their skilled team of fish farmers. We are excited to work hard on scaling their feeding as efficiently and effectively as possible," said Mathew Zimola, Co-Founder and CEO of ReelData AI.
This is the most recent deal for ReelData since announcing their partnership with Laksesystemer in December. ReelData and Salmon Evolution's newly announced partnership shows their dedication to bringing the best technology and services to Norway with the help of Laksesystemer's large team of technicians.
"We have had a 'sneak preview' of what this technology could do so we were 100 percent certain that we would get clients in Norway quickly. We anticipated that this would come, and we have already recruited more people with experience in this field to ensure we will be able to service our customers from day one. Providing local support and having 'feet on the ground' will be an important contribution from Laksesystemer. We truly believe this technology will have a large impact both on sustainability and profitability of land-based aquaculture and we are really looking forward to getting this project started," said Ole Gabriel Kverneland, General Manager at Laksesystemer.