If you think the salmon sashimi you ordered at your favourite sushi restaurant seem more thinly sliced than you remember, you're probably not imagining it.
Portions of restaurant dishes, or at least the key ingredients, are noticeably smaller as businesses grapple with inflation.
"One of the guys I know said he went to a restaurant the other day and they used to get a couple of scallops on top of that dish but this time they got half a scallop," says Chad Spicer, owner of wholesaler Deluxe Seafood Vancouver.
"Sometimes they put salad underneath the seafood to make it the dish look bigger," he says with a laugh.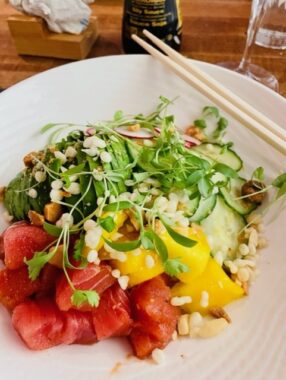 Spicer says he's had to increase salmon prices from CAD$10.95 (US$8.65) per lb at the start of the year to CAD$14.95 (US$11.81) per lb currently. He gets his farmed salmon from producers in British Columbia. His clients are high-end restaurants, sushi bars and operators of golf courses.
They have to deal with the high prices because they need salmon, he says.
"It's supply and demand. They still have to put out their menu. And it also costs money to change the menu."
The good news though is the HoReCa industry is recovering. Vancouver welcomed the first cruise ship on April 10, 2022 for the first time in two years.
"It's starting to pick up now. There's some cruise ships coming into town. Cruise ships really help. There's also lots of weddings," Spicer says.
"Cruise ships are a boost, for sure," says Stanley Kwok, Assistant General Manager at seafood distributor Blundell Seafood in Richmond, BC. "They help especially the restaurants in the downtown core. Now that things have reopened, functions are happening again, too."
Kwok says he's doing what he can when customers look for cheaper alternatives to farmed Atlantic salmon. "Wild salmon is out of the question. Other fish options are steelhead or Arctic char, which are both farmed and can be offered as sashimi. Steelhead is more consistent and the price has not increased that much."
Jamie Madewan, Dinner Manager at Earl's, which operates a total of 68 restaurants in Canada and the United States, says the chain's menu was recently changed first time in two years to expand offerings to pre-pandemic levels. He says business is starting to recover. "We're looking forward to a very busy summer," he said.