SalMar had an operational EBIT of NOK 1,262 million (€122 million) in the first quarter of 2022, up from NOK 627 million (€61 million) in the first quarter last year. However, it was somewhat lower than the analyst estimates of NOK 1,342 million (€130 million).
A total of 45,000 tonnes were harvested in the quarter, giving NOK 28.02 (€2.71) per kg in operational EBIT.
"Our employees have again delivered impressive performance in the form of first-class product quality and very good operational and financial results. Central Norway, and especially Northern Norway, reported strong biological and operational performance and the activities in Iceland showed solid results as a result of good price achievement and a stable cost level," Linda Litlekalsøy Aase, who took over as SalMar's new CEO on 9 May, said in a message.
"Record high salmon prices have also contributed to the strong result, but the current market situation weakens the financial result in the Sales and industry segment due to the price level of contracts. The underlying operations in the quarter in isolation are better than previous quarters," Aase said.
Growth
In recent years, SalMar has taken steps to equip the company for further sustainable growth along the entire value chain in all regions. This work will continue going forward, with SalMar's ambition to be a leader both in the traditional coastal aquaculture, as well as in farming in more exposed areas both inland and in the open sea.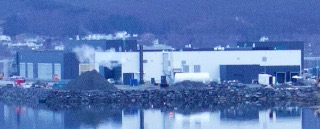 As part of its growth strategy, SalMar launched a voluntary offer in the first quarter to buy all outstanding shares in NTS. The acceptance deadline for the offer expired at the end of April, when acceptance was received for a total of 52.7 percent of the shares in NTS. SalMar is satisfied with the support of acceptances, which means that NTS will become a subsidiary of SalMar when implementing the offer. Provided that the offer is completed, SalMar will fulfil the offer obligation with a cash offer for the remaining shares in NTS in line with applicable law.
High contract share
SalMar expects that the total supply of salmon will be at the same level in 2022, as in 2021.
SalMar expects a corresponding cost level, lower harvest volume and a contract share of around 60 percent in the second quarter of 2022. The contract share in the second quarter is higher than normal as a result of lower harvest volumes.
The company keeps its previously communicated volume estimates for 2022 unchanged. The expected harvest volume for Norway is 175,000 tonnes, for Iceland 16,000 tonnes and for Scotland 46,000 tonnes. The contract share for the year 2022 is around 35 percent.