A fishing trawler filled with 50 tonnes of salmon sunk off the south coast of New South Wales (NSW), Australia, sparking an emergency response from Fire and Rescue NSW.
The vessel received assistance from fire and rescue crews after it began taking on water at the middle wharf of the port around 3:30am local time on Wednesday, with officials finding it partially submerged
Inspector Phil Eberle stated that 50 tonnes of salmon had been on board the vessel, with it being secured in the hull of the boat before it was completely submerged. "The crews have got in quickly, and organised the captain and deckhand to secure the hatches before it went under," Eberle stated, ensuring fish was floating around the harbour.
Firefighters worked with the owner of the vessel to secure it but it was taking on too much water to be saved and eventually sank. Authorities have deployed 100 metres of absorbent booms around the boat to prevent fuel spreading from the sunken boat, deploying a salvage team. Eberle stated that the move was taken as the vessel was believed to be "carrying a large amount of oil and fuel," although "there doesn't appear to be any that has hugely escaped."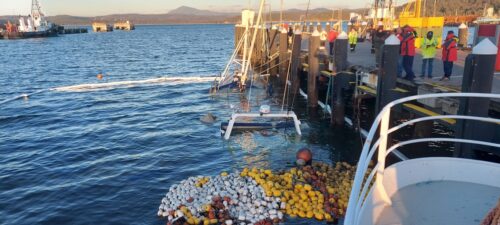 The cause of the sinking is not currently known. The boat is believed to be operated by locals to transport salmon to South Australia.
No injuries were reported in the incident, with Superintendent Adam Dewberry stating that it shows a swift call to the emergency services can be the difference between life and death