Falling down after trading at record high levels six weeks in a row.
Salmon prices are falling sharply, for the second week in a row. The market is flooded with fish, while buyers are sitting on the fence.
"It has dropped throughout the week. Around 90 kroner (EUR 8.8). Some towards the end of the week has gone even lower," says an exporter to SalmonBusiness.
"I think we will buy around 90 kroner. But it's going to be a bit of negotiations since it's one day less next week (Norway's day of constituion, 17 May, ed. note)."
Facts
Every Friday after lunch, SalmonBusiness report spot prices for salmon. These are fish to be delivered the following week. We contact several links in the value chain, including farmers, exporters and importers, and always have at least five independent sources, although not all sources are necessarily displayed. We vary the sources we use and do not use the same sources each time.
He mentions the following farmgate prices for fish to be delivered next week:
3-4 kg NOK 88 (EUR 8.6)
4-5 kg ​​NOK 90 (EUR 8.8)
5-6 kg NOK 95-96 (EUR 9.3-9.4)
The price drop is confirmed by five different exporters, fish farmers and importers SalmonBusiness has spoken to after lunch on Friday.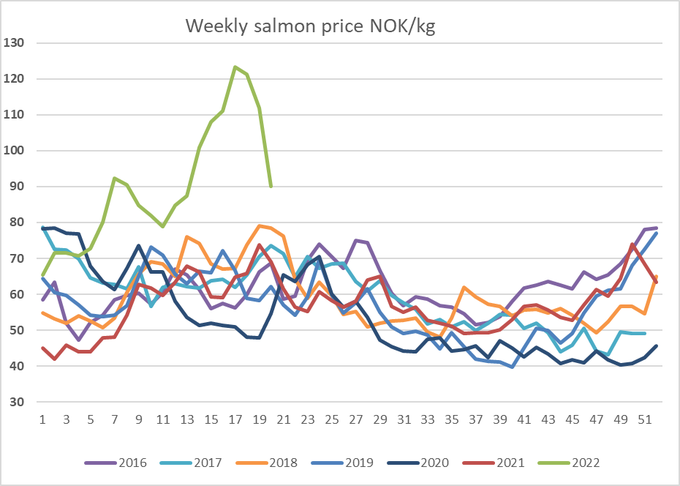 "Customers are completely hesitant. There is so much fish unsold. It has been a bad week for most exporters," says one of them, claiming a price level between NOK 80 and 90 (EUR 7.8-8.8).
"I have not bought anything, and am far away from that," says a trader.
"It must be very firm before we buy fish. This week has been like standing high up and the floor disappearing beneath you. Now we have to see what the market does. Simply. It will be a week you have to wait and see what happens. I will be very surprised if we see NOK 90+," he says.
"It sounds dramatic, but it's because it's dramatic."