Fish scammer is up to its old tricks.
On the 18th May, the "JSP Sleipner" was heading towards Ålesund harbour in Western Norway. The 10,000-tonne container ship docked and soon a 40-foot freezing container will be unloaded on land.
It stays overnight, before being winched aboard another container ship, "MSC Essex" or "MSC Colombo". Then the goods will be moved on to West Africa.
The freezer container holds 27,313 kilos of round frozen mackerel, packed at Espevær Laks at Western Bømlo, Western Norway. The buyer is Manart Company Ltd. The fish will be shipped to the port city of Tema, just east of the Ghanaian capital of Accra.
The shipping and goods were prepaid to Diamond Logistics.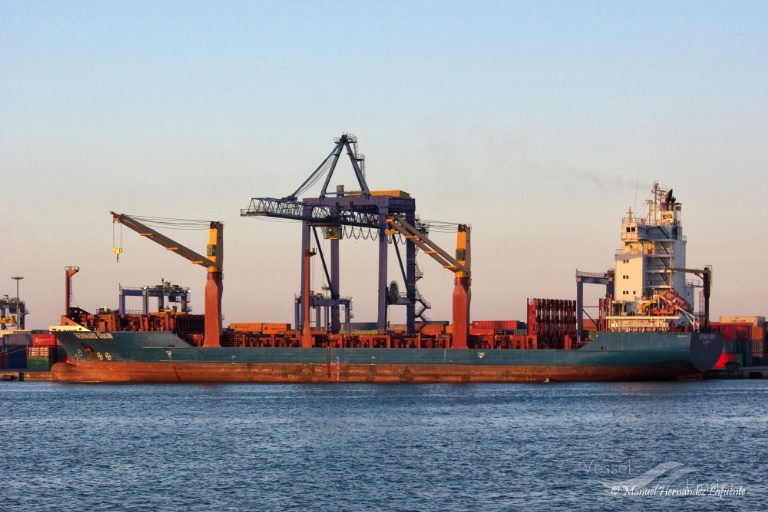 The buyer, Christopher Haworth, is pleased. He runs Quay Meats, and has long been looking for a new fish supplier. The export company sells meat and fish to Africa and Asia from suppliers in Europe and South America.
Old Trafford
"I was looking for fish wholesalers in Norway, and found this company. I googled it and saw the homepage. I got in touch and took it from there," he told SalmonBusiness.
Quay Meats is located in Salford Quays, close to Manchester United's Old Trafford home. Haworth received a certificate of sanitation, stamped by the Norwegian Food Safety Authority, as well as a waybill, packing list for the ship, cargo document from Espevær Laks, and origin document from Customs.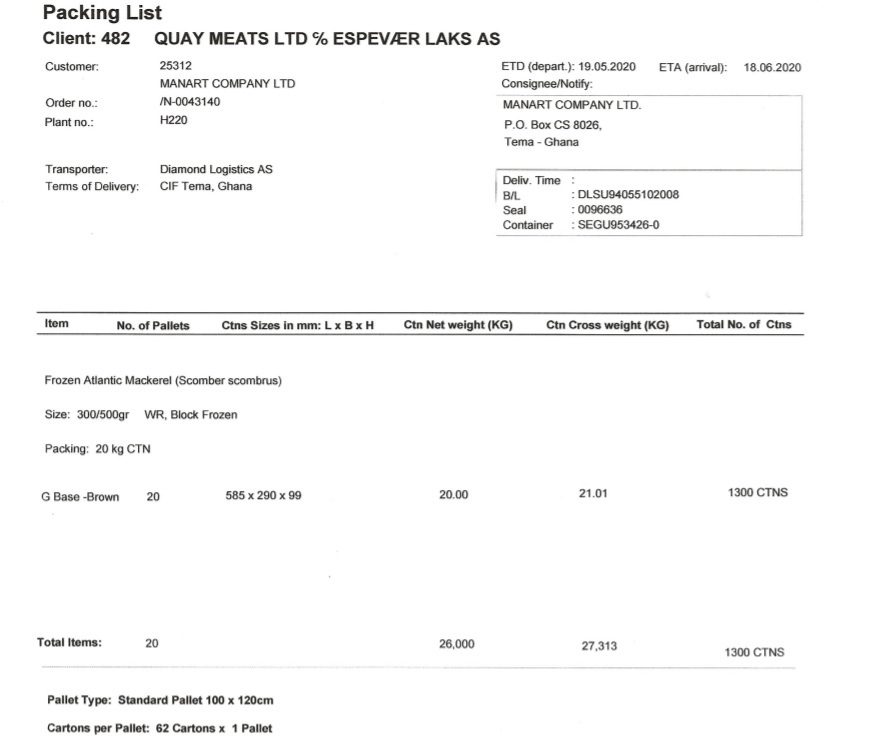 What Haworth does not respond to is the origin document. It had a strange stamp from the "Republic of Norway." It was signed by customs, by two men with not particularly Norwegian-sounding names; Ngø Edmonds Rivælle and Dean Padmashreze.
Hawthorn saw nothing unusual in the email he received from his contact person, a certain Skaustein Håkon, on the 15th of June. Note that it is signed with the homepage Espevaerlaks.com.
Fictional
The catch is that the person who claimed to be Skaustein Håkon does not exist. Nor his alias Håkon Skaustein, who last spring posed as a salesman in the export company Sunsea Seafood. Back then, the fictional Skaustein succeeded in defrauding Sunsea Seafood twice.
Now he is on the move again.
The mackerel freezer container did not exist either. The only real thing in this trade is the money transfer from Quay Meats to the unknown supplier.
"I've lost 36,000 euros," Hawthorn said.
"It makes work and trust in companies very difficult the people are going to such lenghts to impersonate someone. He even had the nerve to message me last night with a different container number which on research looks genuine and we are in the process of tracking down who sent that one. As whoever has sent that must be involved" he added.
He denies that the problems may be due to conditions on the buyer side. Several similar fraud cases originate in West Africa, especially Nigeria.
"No, I have insurances on the customer and worked with them earlier," he said.
Poland
Espevær Laks's website is central to the scams. Not the harvest plant's company's real website, Espeværlaks.no, but the fake one that is confusingly similar, Espevaerlaks.com.
Arnstein Brekke, general manager of the fine company Espevær Laks, is distraught. He has skewed the case, and is led towards Poland.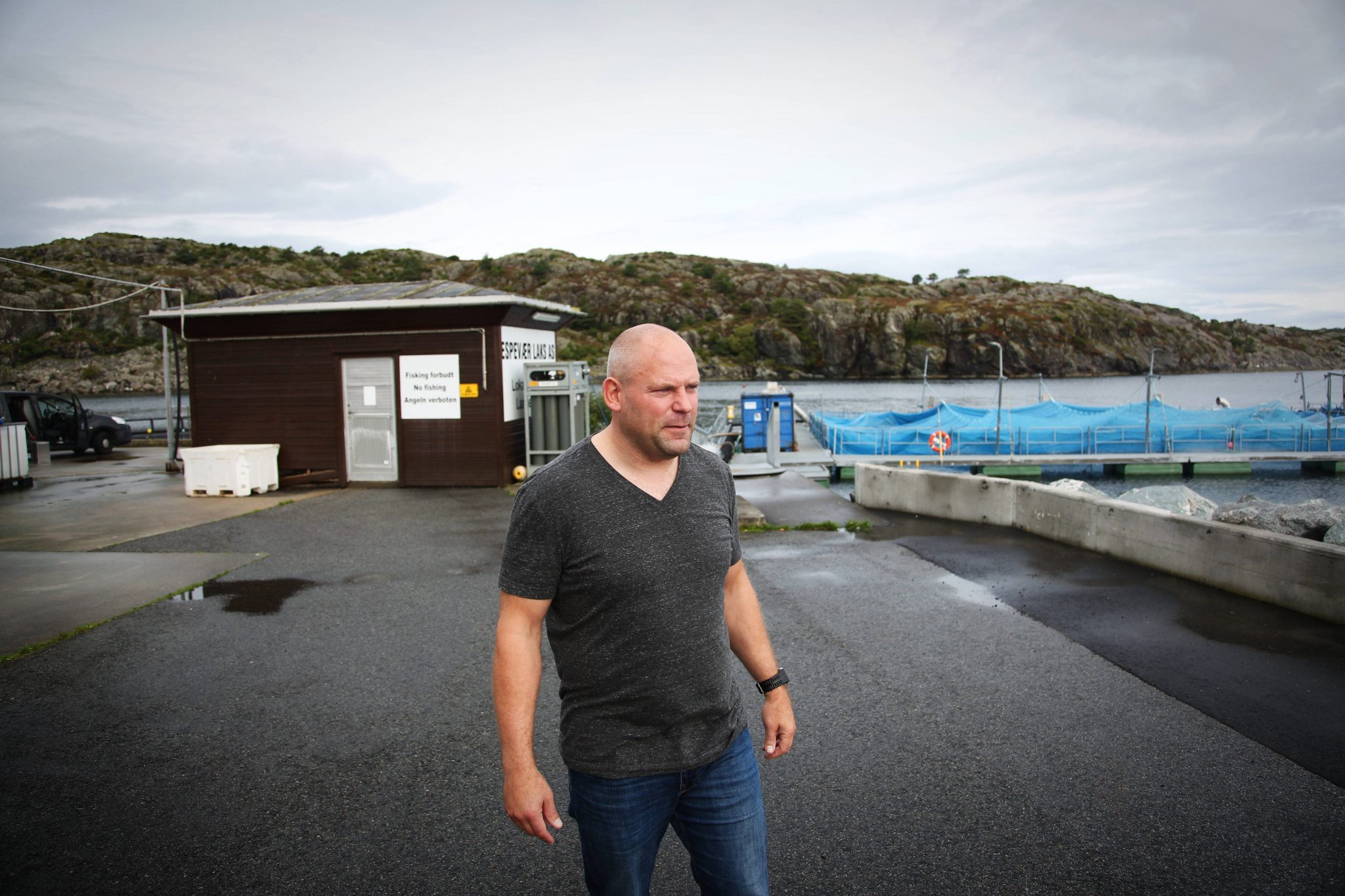 'There are some probably from Poland who pretend to be sellers of salmon they don't have and then they demand a down payment. In connection with this, we have tried in different ways to stop this. We have contacted suppliers, put a warning on our website and reported it to Police District West. We have also had some phone numbers that have been entered on the homepage, but new ones are constantly popping up. We gave warnings, but then we have not progressed beyond that," he said.
"I see on their website that they alternate between Espevær Laks and Inka (a processing company in Os, south of Bergen .ed). It's a desperate situation that you can't do anything," he added.
"The phone numbers have been created in Denmark and England. The account numbers that have been used have been traced back to Poland," said Brekke.
According to Brekke, Espevær Laks has been entangled in several ongoing scams – with products they do not sell.
"We don't sell those products. Mackerel, they try their hand at king crab, but Espevær Laks is only a standalone harvest plant that offers only harvesting services. We have no exports under our own direction. We don't sell anything except the harvest services," he stressed.
"I've received feedback from exporters that some of their customers have been deceived. So there's probably someone loose on the money that's done advance payments without having done enough research," said Brekke.