A new land-based salmon farm is just the latest in a series of speculative ventures that could potentially turn a corner of southwest Iceland into a major salmon hub.
Geo Salmo is the most recent in a series of land-based salmon start-ups to announce plans for the construction of flow-through fish farms outside of Thorlakshofn in the south west of the country.
On the so-called Laxabraut (Salmon Row), a stone's throw away from Thorlakshofn international shipping harbour, at least three other companies are busy planning large scale farms, including frontrunner Landeldi.
The port serves a direct weekly cargo ferries to Rotterdam and Hirtshals in Denmark operated by the Faroese run Smyril Line. Meanwhile, extensive smolt farming is already taking place in the surrounding Ölfus region on behalf of the companies Ísþór, Laxi, Landeldi and Samherji. The area is rapidly shaping up as the Icelandic salmon equivalent of Silicon Valley.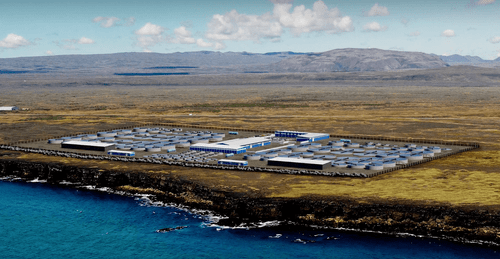 Big business
The nascent industry represents big business for the municipality if successful.
Each farm for the production of about 20,000 tonnes of salmon is estimated to cost about €300 million to build and the value of standing biomass (13,000 tonnes), is about €60 million. Each farm of this size results in 200 jobs as well as a number of derivative jobs, of which 70 are likely to be full-time in product processing and packaging.
While such plans would require intensive energy requirements (about 120 megawatt hours per 20,000 tonne farm), according to Icelandic outlet Fiskkifrettir, the municipality of Ölfus is considering the establishment of a new energy company in the area to ensure energy supply to energy-intensive industry and food production that is built up there.
Geo Salmo
In November, Jens Thordarson was appointed CEO of Geo Salmo. Prior to joining Geo Salmo, Thordarson spent 15 years in the airline industry, most recently as COO of Icelandair Group.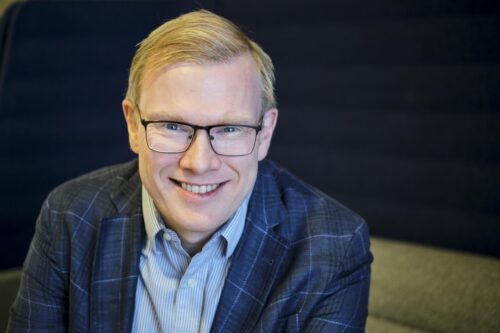 Geo Salmo was founded in 2021 by a group of Icelandic investors including fin tech investor Adalsteinn Johannsson who has made a series of successful investments across Scandinavia.
The company are currently finalising negotiations with a technology partner from what Thordarson says was a, 'very short,' short list. "I would expect us to sign with a technology partner within the next few weeks. We are very advanced discussions," he says.
Following this, Geo Salmo is hoping to have planning approval and permitting secured by the end of the year. 
Career change
What made the experienced airline executive want to get into the world of salmon?
"I think the sheer opportunity that's ahead of us in land-based salmon farming is one of the more interesting propositions globally right now as it addresses significant megatrends such as finding sustainable ways to produce food, feeding a growing population and re-inventing food systems. The ability to do so in the context of building up a well-funded startup in the space was ideal for me. I have good experience from the airline in running complex operations that I hope will be useful for my new company," says Thordarson.
"The process has been ongoing for about a year now. We have secured land that will easily accommodate a large land based salmon facility, even larger than we planning. At the moment we are seeking a licence for 24,000 tonnes live weight. We are planning to try to have obtained that licence in at the end of this year, to be able to start construction early next year."
Thordarson continues, "That will be probably be for the construction of a growout facility, we were already looking at some options in terms of smolts. And probably it will be done in phases. So the plan is to start putting fish in that growout in 2024, and the first harvest would be hopefully in mid-2025."
"How large a phase we will start production with in in 2025 is still under review, but we assume it will be around half of our eventual scale."
Flow through
"We're planning to use one water source so water from the ground, both seawater and freshwater. So we expect to have exceptional quality characteristics – the water is very clean as it has been filtered through lava rock," Thordarson explains.
"The same aquifer that we're using is also being used for bottled water that is being sold worldwide. So we expect that growing conditions for the fish will be extremely good."
"We should be able to aim for the highest quality farmed fish. It should also be very environmentally friendly as we will be using clean energy, sustainable water sources and we are also very focused on making sure that minimal waste is generated and creating additional value from what would normally be wasted."
Yesterday, Tavish Scott, head of the Scottish producer association, Salmon Scotland, said that he could not envisage that land-based farming would ever make sense for Scotland, given its distance from major population and economic centres. So why is Iceland betting so big on the technology? 
Top of the market
"That's something that we gave a lot of thought to. It's absolutely correct that one of the advantages of land-based farms are their potential proximity to the market. That is a significant advantage in many ways. However, the disadvantage of those facilities is that they're using technology not proven on that scale, and it remains to be seen what the growth characteristics of the fish will be."

"What we are doing here," he says, by contrast, "is using the unique characteristics of our geography – we are able to use lava-filtered ground water and geothermal warmed ground water to create excellent water conditions for relatively low operating costs."
"So, we will be able to create a very high quality product at a relatively low operating cost. Even if the even though we understand that capital expenses are significant. The technology is there and we should be able to compete on relatively low cost structures."
"And, of course, we will have exceptional quality because we we are using flow through systems which are known to create very good quality fish. Coupled with the environmental characteristics we have here, the clean energy that we have access to and so on, should give us an advantage at the top of the market, which is conversely, less price sensitive than many others," Thordarson concluded.