Even sushi enthusiasts in Taiwan feel the effect of the Russian invasion of Ukraine. The ongoing war has affected the supply of airborne European salmon to the degree that sashimi is off the menu at many restaurants. 
It is a lazy, sunny afternoon when we visit Taipei's premier seafood destination, Addiction Aquatic. The runaway success is a combination of wet market, supermarket and sushi restaurant. We arrive after a wander through traditional markets in the Zhongshan district of northern Taipei.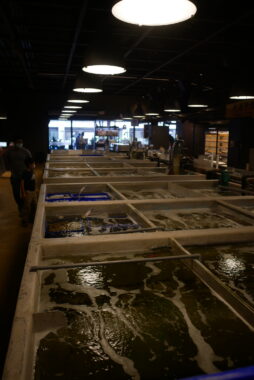 As is obligatory for the world's sole zero-covid country, we scan the QR code and get our temperature checked before being allowed entry. We pass by crabs, fish and a minimarket filled to the brim with high-end European imports, be it French Dijon mustard or German Helles lager.
"We are suffering a shortage of salmon, but not a noticeable increase in demand for other types of fish."
Sushi chef Chen Xin Ru only speaks Japanese and Mandarin, so the interpreter steps in. Chen explains that even with the ongoing shortage, prices have so far not moved drastically.
However, in Taiwan's second-largest city, Taichung, the price of Norwegian salmon has gone up 30 percent according to China Times.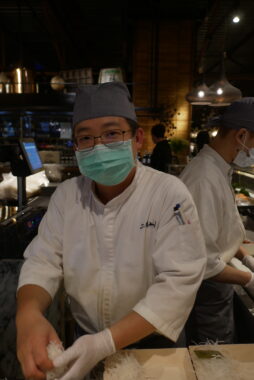 In addition to Norwegian salmon, Taiwan also imports salmon from Scotland, Chile, Japan and Canada. Due to delays in the supply chain, the price-related consequences of the war will only increase for future contracts.
Taiwan's minister of agriculture has even asked people to forgo increasingly expensive salmon for local fish like monkfish. The smart tech local aquaculture industry will also profit from a situation with longer-term higher prices for salmon imports.
In Taiwan, the more high-end sushi chains such as Kura and Sushiro have their own supply networks for seafood. Making use of the same Japanese imports as the franchises in Japan allows them to maximise the advantages of their own, proprietary processing centres.
How different was the situation in Taiwan a mere year ago in March 2021? It was the time of "salmon chaos", a result of an insane marketing stunt. The sushi chain Sushiro offered free all-you-can-eat sushi to every person named "salmon". In Taiwan, you can legally change your name three times for free, and over 300 hungry individuals grabbed the chance at a seafood bonanza.
Today, even without any name discount, the exquisite sushi meal at Addiction Aquatic hits the spot ably assisted by proper wasabi. And for who knows how much longer, European salmon.