Samherji CEO Þorsteinn Már Baldvinsson said in a few short years half of the biggest fishing companies in the country will be salmon farmers.

In October last year, Norðurál, a subsidiary of Century Aluminum, and Samherji Fish Farming, the aquaculture operation of the Samherji group, signed a letter of intent to build a land-based salmon farm on a former smelting site in Hvalfjörður, near Reykjavík.
One of the largest companies in the Icelandic fish industry, Samherji is well known for being the largest producer of Arctic char in the world, with an annual production of almost 3,800 tonnes. It also produces 1,500 tonnes of salmon a year, up to harvest size (3.5/4 kg), at a land-based site in Öxarfjörður, East Iceland.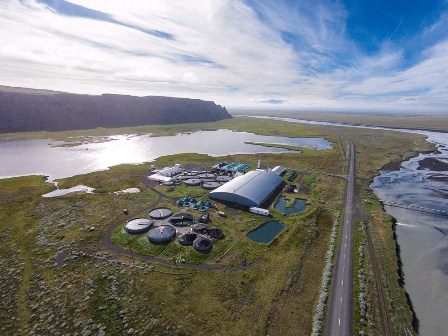 "Samherji Fish Farming is interested in growing salmon in a land-based farm and is considering the location in Norðurál's assets in Helguvík. In the coming weeks, we will review the preconditions and possibilities for salmon farming in the area before further decisions are made," said Samherji Fish Farming's managing director Jón Kjartan Jónsson in a press release at the time.
On Wednesday, Samherji CEO Þorsteinn Már Baldvinsson told the Icelandic newspaper Frettabladid that for the past three months drilling for geothermal water has taken place at the site. But the issue is that rock has been harder than the company expected.
The acquisition of Norðurál's assets has not been completed.
"We have a certain amount of time to make the decision to complete the purchase. That time has not passed yet as all investigations are not yet complete," said Már Baldvinsson.
On the wider industry in Iceland, Baldvinsson said that looking ahead shortly into the future, "the salmon farming companies here in Iceland will be among the largest fisheries companies in Iceland".
"It will be no more than four to five years for three of the six largest fisheries companies in Iceland, measured in turnover, to become salmon farming companies. These companies are mostly owned by Norwegians. This is easy to see by looking at the licenses that have been granted, to which companies, and what the price of salmon is. These are just the facts that are available. I am not saying that this is a bad development, but it is worth bearing this in mind when discussing the fishing industry and the rules that apply to it," he said.
He added that one of the allures of salmon farming was that the "delivery and quality safety is one of the things that aquaculture has exceeded" wild catch.
"Customers of the salmon farming companies know which is that in 99 per-cent of cases they get what they have ordered, on time and in the right quantity and of good quality. This is what the salmon farm has beyond other fisheries," said Baldvinsson.