More predictable but lack of capacity is still an issue.

Morten Würgler has had one eventful year. But Schenker's Head of Air Freight has come to terms with the coronavirus landscape and the adjustments the global air traffic industry has had to deal with.
"I would say now we are in a new normal. It's more predictable these days that it was, back in May when the main recovery started," he said. In March last year, the salmon industry was screaming for capacity.
"Now we see that the overall capacity outlook is stable, that's the plan for four consecutive weeks. We know what is coming," he said.
Still need more carriers
But cargo is not quite out of the woods yet. Lack of capacity is still an issue and a headache for the seafood industry.
"However we still do not have many possibilities in running networks that we used to have. Since many of the carriers have been taking out capacity. More were added last week. But we still need more carriers to fly for even more possibilities and frequencies," explained Würgler.
Carriers today are operating one or two times weekly. Operationally, this is "a bad backup plan," he said.
"If what's coming in today, and then what's coming in next week, is canceled we need to rebook all the protocols. We would like to see more network carriers in the air again, with more frequent flights," said Würgler.
Würgler said that Schenker is continually working on demand, trends, to see how it can combine cargo from all over Europe to one destination.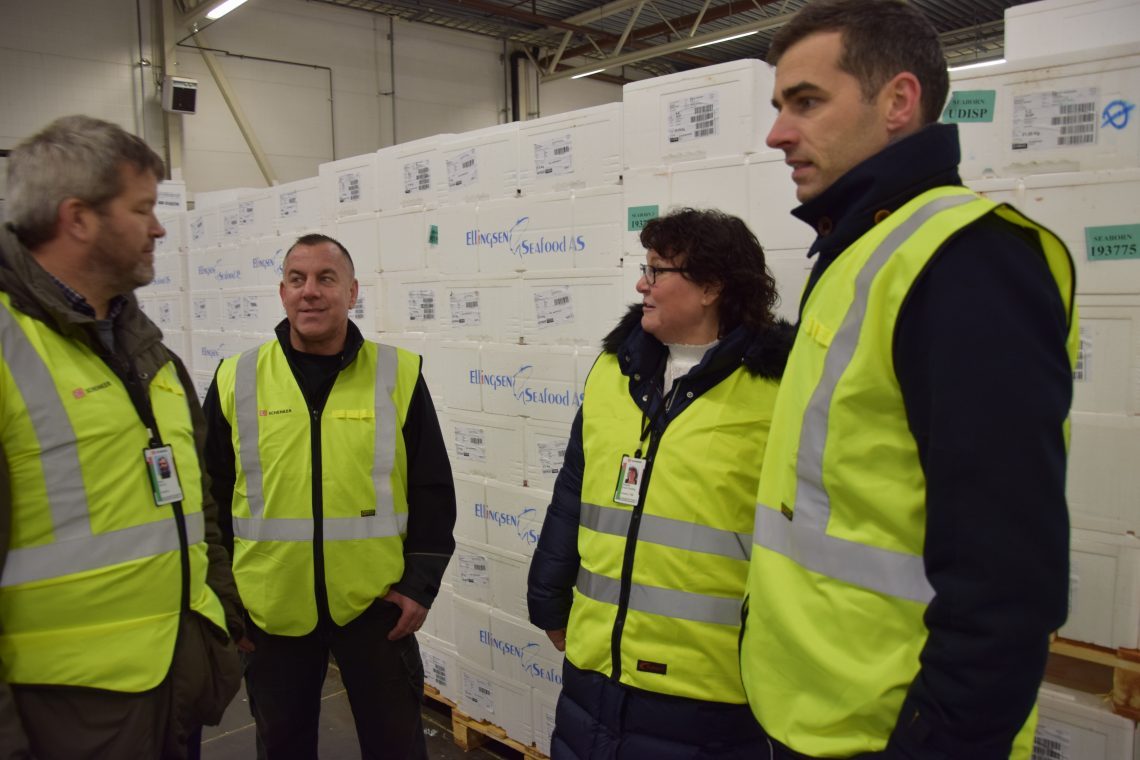 Prices
"It's all-cargo aircraft. Oslo airport had the lowest travel registered three weeks ago, basically for more than 20 years," he said. Normally, large parts of Norwegian fish exports depended heavily on cargo capacity on passenger aircraft.
"On prices, there are still some smaller fluctuations, so we see an overall yield increase of approx 20 per-cent, compared with the same period last year. However, some destinations have 40, 50, 60, 70 per-cent. We still have destinations that have a huge gap to where we were and where we are now," he explained.
"We still have destinations that are stable, especially China, stabilized fast, so did Hong Kong. Though there are still some destinations with a 60 per-cent increase," said Würgler.
USA
In terms of the USA for salmon, there are clear shifts. Last year, it went from a whole salmon market to a fillet market.
"In week 52, the USA was the second-largest importer by country with 600 tonnes. And we see that if we go back to one of the first weeks in 2020, the US imported more than 1,000 tonnes. We see now it's been driven by the fillet market basically. Whole fish has dropped significantly. The whole fish was going out to the HORECA. We still see that the supermarket market has increased," explained Würgler.
"So in the USA this year, whole fish was 841 tonnes, Last year it was 17,000 tonnes. So heavily reduced. While this year, fillets to the States are about 3,000 tonnes. Last year, up to week 6, it was 2,500 tonnes," he said.
China was one of the countries that recovered fast. This year up to week 6, China imported 3,000 tonnes. Last year it was only 1,900 tonnes. "So quite significantly increased," he added.
On pre-orders, Würgler said these days it's easier now than it was.
"The carriers have been a bit reluctant to take on bookings more than two/three weeks in advance. You need a certain yield for the turnover on the flight. If cargo is losing out, then it can leave that flight in negative profit, So the carriers are very strict on performance. But we see now, we know what is going out in two to four weeks in advance, more predictable than it was, The market has adjusted".
Red levels
Though these are not easy times by any stretch of the imagination, Würgler said he was optimistic.
"I think that returning to a time after COVID 19, I expect most of the carriers for salmon will be back. So that will give us more opportunities. Many people in the USA are now used to going down to the supermarket instead of restaurants. That should perhaps continue, in addition to the HORECA markets. I think that's a lot of opportunities."
"Salmon overall despite a decrease, looks promising for 2021 in terms of capacity. The red levels are lower than we saw 11 months ago," he concluded.