Dozens of sea lions have invaded Cermaq's Rant Point fish farm in British Columbia, consuming the farmed salmon inside pens, as staff struggle to remove the animals from the facility. 
According to Cermaq, the sea lions began targeting the facility as they attempted to harvest their fish, with the situation getting worse over the past week, with, at least, two dozen of the marine animals consuming salmon across multiple pens.
While Cermaq only described it as a "breach event," conservationists that have been witnessing the situation were firmer in their assessment, with Clayquot Action society calling it an "all-you-can-eat-buffet."
Footage shared online by the group over the weekend showed sea lions inside the fish farm, which can have up to 500,000 farmed salmon in it at one time. As the marine animals moved between pens, they could be seen consuming the salmon inside. According to the conservationists witnessing the situation, there are over 20 sea lions inside the farm.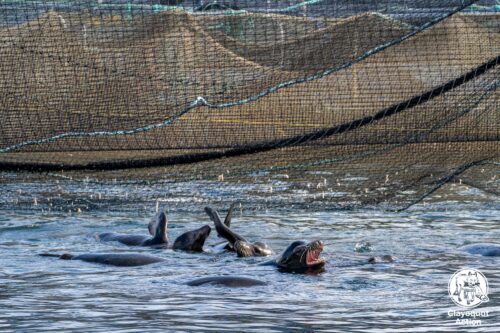 Clayquot Action society feared that the sea lions might have entered the fish farm through a hole in the barrier, potentially allowing farmed salmon to escape into the UNESCO Biosphere Reserve and leaving the sea lions stuck in the salmon pens.
However, Cermaq claims that's not how the animals breached their facility. The sea lions "entered the pens from jumping over the stanchions," Cermaq said in a statement, adding that "no sea lions are trapped or inhibited from exiting the farm at this time, should they choose to leave." The company also claimed that it has not got any evidence of fish escaping the facility.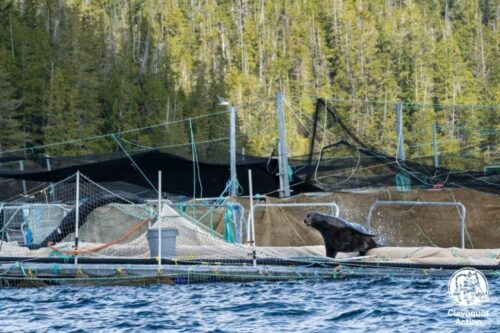 Staff are working to remove the sea lions from the pens and move them away from the location using "approved management efforts," although Cermaq conceded that this was "challenging," as the sea lions have adapted to respond to the behaviour of humans.
Cermaq confirmed that it has notified Fisheries and Oceans Canada of the "breach event" and personnel have been dispatched to the site.