Scientists at the Norway-based research organisation SINTEF have potentially found a solution to the challenge of providing locally-sourced and sustainable food for farm-raised fish.
With the demand for more sustainable feed alternatives of increasing focus in the aquaculture sector, scientists were exploring how to make the industry less dependent on soya protein and other less environmentally friendly raw materials that have to be transported across long distances in order to supply Norwegian fish farms. 
The researchers demonstrated that seaweed is ideal feed for ragworms, which in turn can be transformed into a high-quality feed for farmed salmon. 
"Ragworms are an exciting new feed raw material that can help to reduce the sector's dependency on imported materials, thus making Norwegian salmon a more eco-friendly and sustainable product", says SINTEF researcher Andreas Hagemann.
"Seaweeds have high levels of carbohydrates but contain too little fat and so cannot be fed directly to farmed salmon. However, by first feeding the seaweeds to ragworms, we obtain a high-quality feed that is rich in Omega-3, and with the right composition of other fatty acids and marine proteins. This is also a good way of exploiting residual raw materials derived from seaweed production," Hagemann added.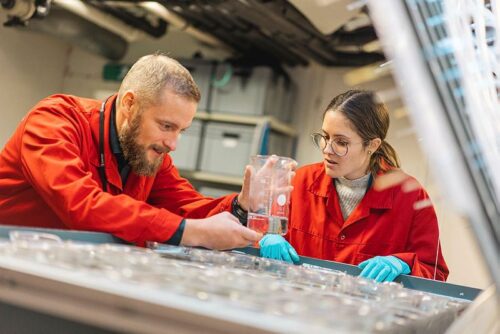 "Since seaweeds are being cultivated in floating marine facilities all along the coast of Norway, there are no limits to the availability of this raw material as is the case for naturally-occurring seaweeds," SINTEF researcher Jorunn Skjermo said, calling the results "excellent" and "very good news."
Seaweed cultivation is a growing sector, and there are currently about 20 companies farming seaweeds in Norway. Globally, it is a gigantic industry, producing more than 300 million tonnes each year.
The research was conducted as part of a project run by SINTEF Ocean called POLYKELP. As part of this project, SINTEF has been collaborating with Seaweed Solutions AS, which farms seaweeds locally on the island of Frøya, and with Marine Bio Solutions AS, which works with feed and raw materials for the salmon farming sector.