"To further grow our production, we moved forward with our plans to construct a 10,000 metric tonne farm."
On Tuesday, AquaBounty CEO Sylvia Wulf issued a letter to shareholders with an update on the company's plans for 2022.
In the letter, Wulf claims "significant strides," have been made despite a year long slide that has seen 76 per cent of the value of the stock lost. Indeed, Monday alone saw a further 6 per cent drop to $1.91, following the company's presentation at the H.C. Wainwright BioConnect Conference.
Following the release of Wulf's letter on Tuesday, however, the stock rallied, finishing four per cent up for the day.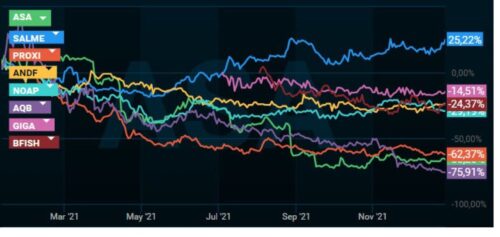 GM pioneer
AquaBounty is developing onshore salmon farms in the US, using genetically modified Atlantic salmon. The company's 'AquAdvantage' fish are Atlantic salmon that have had elements of Chinook salmon and ocean pout, added. The genetic breakthrough goes back 30 years, but has taken two decades of regulatory review, culminating in FDA approval in 2015 and Health Canada approval in 2016, before the first commercial harvest.
In the letter, Wulf details how, to further grow production, the company has accelerated the plans to construct a 10,000 metric tonne farm in Ohio – roughly eight times the output capacity of its existing Indiana farm.
However, this year has been anything but smooth for the GM pioneers as the company prepares to bring its gene-spliced salmon to market, in a shifting domestic market that increasingly values origin, health and sustainability.
Read more: AquaBounty's first Indiana genetically-modified salmon harvest is underway
Farm of the future
The company began 2021 with a public offering of common stock with $127.1 million in gross proceeds, "fortifying our balance sheet and positioning us to deliver on our vision for our next farm – a 10,000 metric tonne "farm of the future."
There have been consistent concerns about the market for such fish. Many large US grocery retailers, seafood companies and restaurants, including Costco, Kroger, Aramark, Walmart and Whole Foods, maintain that they don't sell genetically modified or cloned salmon.
The company, however, believes that sufficient demand still exists, and was encouraged by the first successful commercial harvest of its fish in Q2 earlier this year. "We continued to scale production output in the third quarter, harvesting 84 tonnes of salmon from our two farms and commercial interest remains high. Harvests increased 8 per cent in the fourth quarter compared to the third quarter, as we set the stage for continued operational momentum going into 2022, with a full staff and arrival of additional automation equipment."
"To further grow our production, we moved forward with our plans to construct a 10,000 metric tonne farm, which would have roughly eight times the output capacity of our Indiana farm."
Work to be done
In line with this, the expected project cost has been revised upwards into the range of $290 million to $320 million, with a $30 million reserve for contingencies.
As the letter said, "Our plan for financing the farm project includes a significant debt component, supplemented by our equity contribution – leveraging our robust balance sheet, which included almost $200 million in cash at the end of the third quarter."
"We began the process for the placement of a mix of tax-exempt and taxable bonds through the Toledo-Lucas County Port Authority, whose board approved the issuance of up to $300 million in bonds to support the financing of the project. We also engaged Wells Fargo Corporate and Investment Banking to underwrite and market the bond placement, which we expect to complete in the first quarter of 2022. While there is certainly still plenty of work to be done to close this transaction, we believe that this financing will be a major financial milestone for the company."
Wulf explained that the company's expansion plans are moving forward both domestically and internationally, with potential opportunities in Brazil, Israel and China, making the point that their bottleneck is market access, not production volume.
"We enter 2022 in a strong position – both operationally and financially – supported by the momentum from our successful commercial scale harvests and our robust balance sheet. We look forward to onboarding additional customers and increasing our weekly harvest volumes to fulfill the strong demand in the weeks and months to come," Wulf concluded.