Peak season for feed sales.
Currently, there are good conditions for growth in Norwegian fish farms. From the beginning of August to mid-October, especially weeks 32 to 41, Norwegian feed suppliers have recorded sales of 497,564 tonnes of fish feed – close to 50,000 tonnes a week.
This is evidenced by a review SalmonBusiness has done, based on reports from Akvafakta.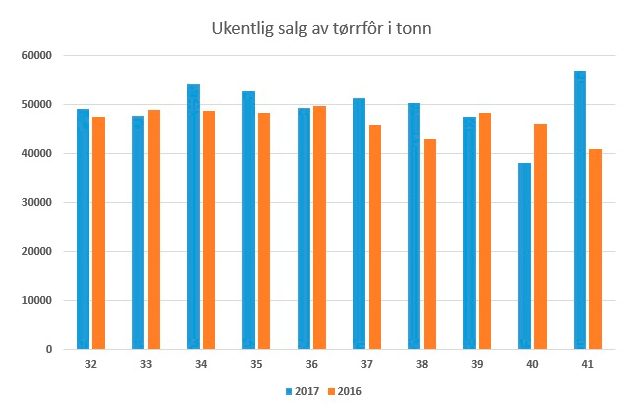 Good appetite
This corresponds to an increase of 6.4 percent from the same period last year, reflecting a good appetite in the cages.
The third quarter is peak season for feed suppliers. It is during this period that the year's profit is secured. Sea temperatures reach the highest levels of the year, and the growth of the fish in the sea does the same.
More fish
Another factor is that the quantity of fish in the sea, the so-called biomass, is greater than it was at the same time last year. At the beginning of September, there were 685,000 tonnes of salmon in Norwegian fish farms – up seven percent in 12 months. Increased biomass requires more food.
The salmon lice situation for Norwegian fish farmers has been significantly better this autumn than in the past two years. Reduced lice treatment also produces better conditions for feeding the fish.
Increased trout production
The sales summary includes feed sold for salmon and trout, and the increase in trout feed is particularly noticeable.
Coming from a situation of limited demand, and subsequently reduced production and biomass of trout in the wake of the closure of the important Russian market, trout biomass is now growing rapidly – from low levels. At the beginning of September, the trout biomass, according to Akvafakta, was 35,000 tonnes.