Young Norwegian expatriate Emil Andreassen is stepping out of his father's shadow to carve his own niche in the seafood industry in North America.
At Andreassen's processing facility in Miami, work is in full swing to prepare the business for production during the late autumn. Graders, filleting machines and assembly lines are piled up on the factory floor. The equipment has barely come out of the packaging.
Platina Seafood USA, not to be confused with the Norwegian export company of the same name, celebrates 10 years this year. At the same time, the company is being re-branded, supported by a new brand alongside an expansion in the processing activity.
The company launched the new NOVO brand this spring with refined products for consumers in thousands of stores across North America. The assortment consists primarily of salmon, but also of mahi, hake, tuna, prawns.
The name NOVO stands for "new/fresh" and was created to launch products for the next generation of seafood consumers. Along with the launch of the NOVO brand, the sales and distribution arm of the company is being renamed NovoMar.
Processing
This winter, the company purchased a new 26,000-square-foot processing facility in Miami. The company's headquarters were also moved to the premises during the spring.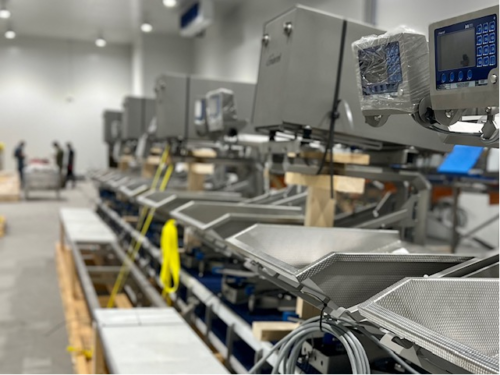 The processing plant will carry out filleting, pin-bone deboning, as well as portioning, vacuum packing, skin packing, freezing and glazing. The facility has the capacity to process 20 million lbs (9,000 tons) annually in phase 1 and 40 million lbs (18,000 tons) annually in phase 2 by Q2 of 2023, according to a press release.
For those following developments in land-based salmon aquaculture, the name Andreassen may ring a bell. Emil's father is Atlantic Sapphire founder and CEO Johan E. Andreassen.
"I was born in Ålesund, raised in Vestnes, and have studied, worked and lived in the USA for the past 10 years. I grew up around fish farming in Western Norway, which I have always had a great interest in. I have worked in production, logistics, biology, accounting and now management within the salmon industry," he tells SalmonBusiness.
"I took over and bought Platina USA (now NovoMar) at the end of 2020. We have all been newly hired since then, with over 10 different nationalities and backgrounds. I am impressed and proud of my employees, as well as the growth we have achieved over the past two years," he says enthusiastically.
Doubles
"We will refine from pin bone in A-trim down to, among other things, portions in skin pack or frozen IVP. We will soon finish phase 1. Initially, we have capacity for around 1.5 to 2 vehicles of raw material per day in one shift. Phase 2 will bring in a new line and double the capacity.
Asked whether his father is still involved in the company, he says: "I bought 100 percent from Johan. He is not involved in any of the ownership or operation. We had a turnover of $55 million in 2021. We have $80 million in projected revenue for 2022."
Since 2012, Platina Seafood has established a large import and distribution network in North America. The company's main focus has been Atlantic salmon as the main product with fresh and frozen products.
"Our company is one of the largest independent importers of salmon in the USA with a presence in over 15,000 stores and hundreds of food service distributors," Emil Andreassen says.
"I am excited about this next step for the NOVO family of companies. When we expand our state-of-the-art production, we will be able to provide leading efficiency, cost-effective and innovative solutions for our partners and customers."