Economics professor Joseph Stiglitz does not believe in a repeat of the wage and price spiral of the 1970s.

He draws a backdrop with crises: Pandemic, inflation, climate, inflation, war in Ukraine and what he calls "rise of populism". Nobel laureate and former chief economist at the World Bank, Professor Joseph Stiglitz, emphasizes that the intertwined problems are not of recent date.

"We actually started with a deglobalization before the pandemic. It started already with the financial crisis in 2008. The pandemic meant that we had to reconsider globalization," Stiglitz says, as the keynote speaker during this year's AquaVision.

Scarcity
"Even a large economy like the USA, we saw that we could not even produce protective equipment, face masks and oxygen machines. And baby food – we got into a massive shortage situation. One company dominated baby food production, and problems in a single company created a major problem for the population, the 79-year-old continues. – I think there is a big warning there. Too much concentration. We need diversification," Stiglitz says, pointing to Germany's dependence on Russian gas, for example.
"They should rather have been dependent on Norwegian gas – or green energy. We also saw a shortage of vaccines. A vaccine apartheid was developed, he notes. Globalization also presents challenges related to food," Stiglitz believes.
"Many developing countries are concerned about food shortages and want to build food stocks, which is in conflict with the WTO's interests. Likewise, disputes over fishing quotas, which can lead to conflicts between countries."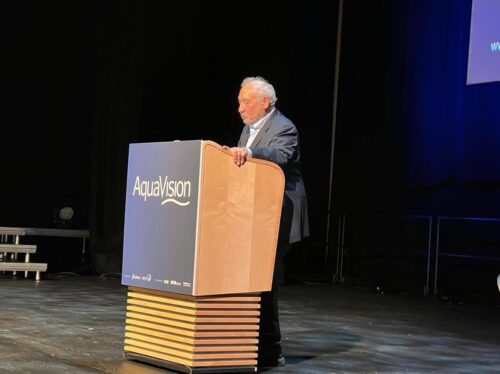 Era
"In terms of inflation; do we have a wage and price spiral that we had in the 70s?" he asks rhetorically. "I think we should be careful about comparing eras. Then it was the beginning of a period of globalization, now we are at the end of a period of globalization. And we have never shut down the world as we did with covid-19. We have no experience with that," he points out.
Part of the challenges also lies in how the business community is built up and organized.
"We have relied on "just in time" inventories, which means that we save some money in the short term, but that means we do not have much inventory. And suppliers also have "just in time" inventory. And the suppliers to the suppliers have "just in time" inventory. When one then gets a shortage, it becomes a comprehensive problem," he says and points as an illustration to the problems in car production and its dependence on microchips (semiconductors).
"I do not think we will get a wage or price spiral like in the 70s," he sums up. "If you look at world production of grain, not export of grain, there is a large spare capacity."
A weapon
"And the world economy – where do we go? Many economists believe we will enter a recession. In principle, we can curb the economy. By curbing activity, by lowering inflation. You do not have to kill the economy."
"It is not a demand problem, it is a supply problem," he points out.
Stiglitz warns against solving the challenges by using only the central banks.

"The central banks have only one weapon, to raise interest rates. But it does not increase the supply of oil, cars or food. That, inflation, has become a political problem. And the media is partly to blame. In the newspapers we read that it is the highest inflation in 40 years. But in the US we are talking about 8-9 percent inflation. It's not runaway inflation. We need to address the supply side: Better immigration policy, expand food production – and price guarantees for energy should be able to provide more oil and gas."
In food, Stiglitz says that in recent decades, overproduction has been the problem.

"The authorities have paid the farmers huge sums for not producing more food. It is not a long term problem with supply. We have the capacity to produce more, but there are some problems, including the climate challenges. Climate challenges could lead to unrest and wars. And wars could cause supply-side problems. Europe and America have a large capacity to produce more. Population growth that will stabilize. Population growth will largely take place in Africa, and they will have problems producing enough food." He therefore emphasizes sustainability as a key pillar in food production.
"Globalization of offers has the potential to smooth out uncertainty, for example with weather, but I would like to conclude that we have been reminded of why it is important to focus on climate and food. Food shortages have led to growing inequality and political unrest. And in this time, the fact that it is coming on top of the pandemic, means that we can expect even more instability than what we have seen in recent years," Stiglitz concludes.