"It has been a demanding and comprehensive process, where Lerøy's clear requirements and desire to be a driving force for increased sustainability in the industry, has contributed to the fruition of this solution, said Sustainability Director at ScaleAQ, Hanne Digre, in a press release.
"Sustainability will always be part of the evaluation process in purchasing competitions for Lerøy Seafood Group," said Erik Kjær Mjøs, senior purchasing consultant in Lerøy.
"This is in line with guidelines and guidelines in Lerøy's sustainability library".
Used feed hoses are delivered to the quay near the site and stored before collection and recycling.
"Lerøy Seafood Group has a significant amount of feed hoses," explained Digre. "We also agree with Lerøy to minimize the discharge in connection with the transport of the feed hoses. By having an ongoing dialogue and regular meetings, we will together ensure that the cargo capacity during transport is utilized, this will mean fewer trailer trips and thus a reduction in emissions."
"The recycled plastic can be reused in our own products such as handrail pipes and new feed hoses. In other industries, there is an almost infinite amount of products that can be made from the recycled material. Used feed hoses get a new value, this minimizes plastic emissions, reduces waste and the need for new raw material. This is an important contribution to our constant work with the sustainability challenges in our industry."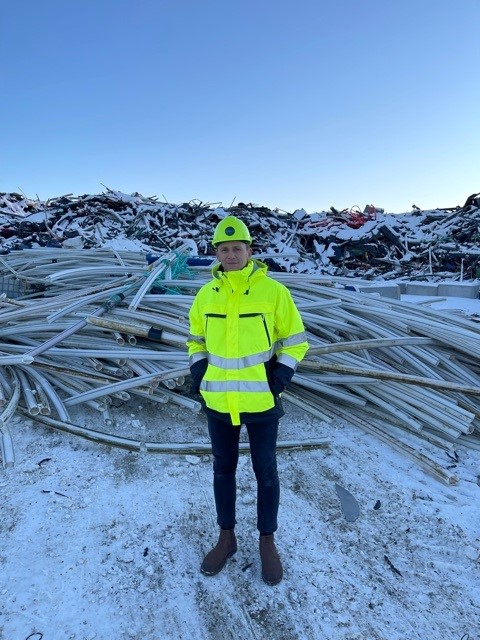 ScaleAQ has chosen to collaborate with Oceanize on collection and recycling. Oceanize establishes plastics in circular value chains.
"By recycling almost 500,000 kg of plastic, greenhouse gas emissions of more than two million kg of CO2 are prevented by the waste not being exported or incinerated," said Tormod Steen, Communications Manager at Oceanize.
"At the same time, we want to praise Lerøy and ScaleAQ for taking producer responsibility seriously and for putting sustainability on the agenda."