Swiss Lachs' mountain raised salmon is proving popular.
The salmon farm situated near the top of a mountain in Switzerland can't sell enough its fish and is mulling a serious extension, SwissLachs Marketing Ronald Herculeijns told SalmonBusiness in a phone call on Friday.
"We are thinking of an extension, on paper that is. We are thinking about how we can expand," said Herculeijns.
"Average growth of our fish increasing. And every fish is being sold. Demand in Switzerland is way higher that what we what can supply," he said.
The salmon farm – which uses the Swiss Lachs RAS 2020 grow out facility – designed and delivered by Krüger Denmark (a business unit of Veolia) – is currently on its 5th generation of salmon.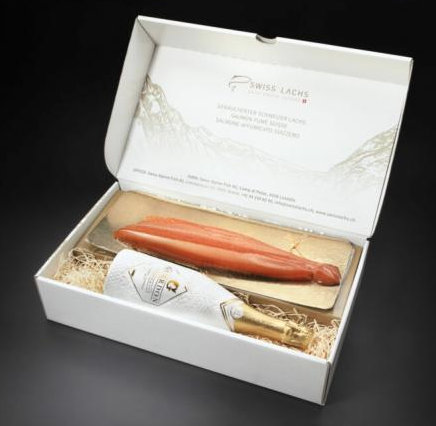 Swiss Lachs is currently aiming to grow 600 metric tonnes of salmon, harvested at optimal harvest size of 3.5-4.0 kg. 80% of it is sold fresh – while the rest is smoked in-house. It's then sold online, onsite as well as national retailers and fish distributors.
"We don't use any antibiotics, no chemicals and our fish don't have microplastics nor parasites. They swim in the cleanest mountain water, we recycle 95% of the water fish," said Herculeijns. "We are only selling to Swiss customers. The price is slightly higher than Irish Organic because it is a locally produced product, it is fresher than imported fish."
And a premium there is. A 500g Fresh salmon fillet will set you back of EUR 24.5. A hand smoked side of Premium Quality salmon fetches EUR 35.5 (for at least 400g).
Can you get costs down?
"Our largest costs are wage, then feed, but we do try and keep costs down even though it can be difficult," said Herculeijns. "But the Swiss like to pay a premium for locally produced sustainable products."