In a troubled market, it's the most cost-effective that can withstand the most beating.
Fredrikstad Seafood already sells their salmon in grocery stores in Eastern Norway, and is working diligently to put in place approvals for new and significantly larger fish farms in Maine and California. The Korean tuna giant Dongwon is partnering with Salmon Evolution and is also planning the construction of a land-based fish farm in South Korea. Atlantic Sapphire and Andfjord Salmon have showcased comet growth on the stock exchange. Land-based salmon farms are being set up in China, Japan, Russia and Saudi Arabia.
The eagerness to bet money on salmon grown on land seems unlimited. The fish can be produced everywhere on the planet. The supply-side barely grows – and the market wants more.
Here you can make a bet.
Sharp fall
At the same time, the spot price for salmon has fallen to levels one has only experienced for a short period (in late autumn 2019) for the last five years. The pandemic demand shock has hit profitability.
The kilo price is approaching break-even. Where salmon farming companies don't make money. Here it is worth noting that we are talking about break-even for open cages in the sea. Not in tanks on land. There, costs are considerably higher than EUR 4 per kilo.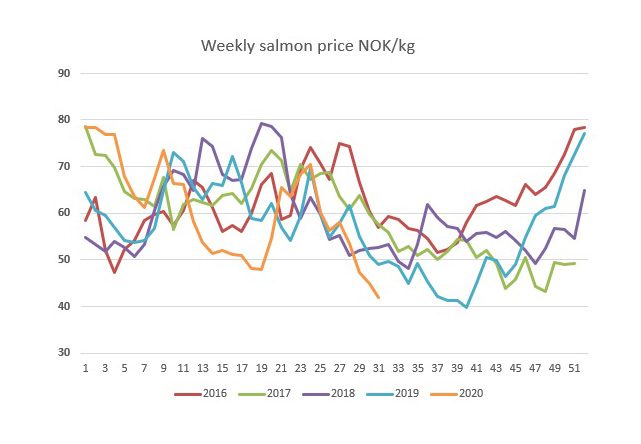 Loss
This is underlined by Wednesday's news that Atlantic Sapphire must harvest 200,000 fish, equivalent to 400 tonnes. 250 tonnes of this is going straight into the meat grinder. A pure loss.
It's not the first bad news the company has received. Not even this year. In March, 227,000 fish were lost due to high nitrogen levels at the pilot plant in Denmark. It was an uncomfortable reminder from the summer of 2017 when Atlantic Sapphire lost its entire annual production in one day of hydrogen sulfide poisoning in the same facilty.
Land-based salmon production is demanding. And risky. It has a high mortality rate and consequently high production costs. Even in the golden age the salmon industry has experienced in the last six years, land-based facilities have not been able to make money.
Coronavirus closed
In the budgets of many of the land-based salmon farmers, budgeted production costs are set around EUR 5.5-6 per kilo. That means a loss of almost EUR 2 per kilo in today's market.
Right now, the growing number of land-based salmon farmers should be happy that they don't have much fish to harvest.
In a market characterized by coronavirus-hit restaurants and large fresh markets, such as the United States, Brazil and China, knocked out, salmon is not a gold mine. Not even for those who have natural and cost advantages – in open sea cages.