Scarcity of harvested fish and continued high demand send the price level to historic highs.
"We have paid 106, 107 and 108 kroner (EUR 11.2-11.4) for Tuesday packing and 1.50 kroner (EUR 0.15) lower for Wednesday, Thursday and Friday. There is a slight increase," says an exporter about the salmon price. "It has dried up this week. Simply too little fish," he says.
Facts
Every Friday after lunch, SalmonBusiness report spot prices for salmon. These are fish to be delivered the following week. We contact several links in the value chain, including farmers, exporters and importers, and always have at least five independent sources, although not all sources are necessarily displayed. We vary the sources we use and do not use the same sources each time.
"There will be no decline. A little uncertain on the final of the week, but probably the same level. Not much fish is available. Somewhere between 100 and 110 kroner (EUR 10.5-11.5), depending on size, location and availability. There is a lot of "prod fish" (low quality – ed. note) and relatively little that goes out to the market," says another exporter to SalmonBusiness.
"It will last for a while. If not so high prices, then there will be quite high prices for some time to come."
Excited
There is a common perception of a price increase.
"I would say it is two to four kroner up. I just talked to an exporter who had bought for 106-108 kroner (EUR 11.2-11.4) at 3+ kg in the north [of Norway]," says a fish farmer.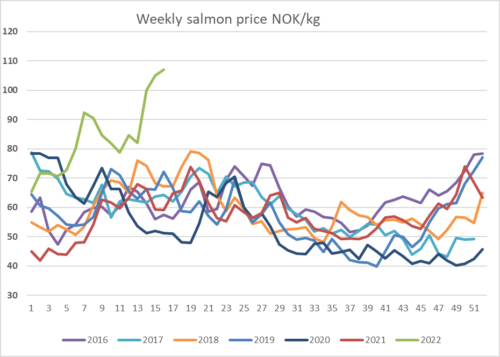 Others see minor movements.
"Not a huge change. But we are excited about further development, with a trade fair (in Barcelona – editor's note) coming up. It may go up a bit. 102-105 kroner (EUR 10.7-11). It's absolutely amazing, but we have to live with what is. There are few customers who sign up today. Many are on Easter vacation," says a trader.
He points to several factors that drive prices as high as they are now:
"There is a lot of contract volume and low quantity. Everyone must obtain the fish sold on contract. There will be a fight for the little fish that is superior [quality]. That fight will last until June. There will be little fish in May as well, as it looks," he says, before he apologizes for taking an incoming phone call from a farmer: "I have to talk to one of these kings."
Never seen  
Also on the European continent, they notice the price increase for salmon.
"Today the price rises again here in Holland. I buy locally, do not use exporters or importers, and this morning I was offered 4-5 kg ​​for 12.50 euros – up from 11.25 euros last Friday," says a fish processor.
He adds that this includes shipping and fees to third parties. The cost of the raw material comes on top of much else.
"And then I have to fillet it, smoke it and cut portions. I have worked in the industry for 40 years and I have never seen anything like it. Customers no longer accept it. Why are prices so high? Who presses the buttons?" he asks resignedly.