Did you think Mowi was the biggest?
Measured by turnover, Mowi, previously known as Marine Harvest, must accept fourth place among the world's largest seafood companies. The overview was presented by Skretting CEO Therese Log Bergjord during this year's Aqkva conference.
The two top seats are held by the Japanese. The biggest is the titan Maruha Nichiro, followed by Nippon Suisan Kaisha.
Pioneer
Maruha Nichiro,  a hundred-year old business, is heavily involved in fishing but also has significant imports of other seafood, including salmon. On its CV, the company can boast that it introduced Atlantic salmon farming in Chile. Turnover is clocked at USD 7.2 billion.
Main challenger and competitor Nippon Suisan Kaisha, meaning "Japan's fisheries company," is also involved in the same mentioned sectors, including a significant amount of farming activity in Chilean farmed salmon. Its total sales amount to USD 5.7 billion.
Thai Union Group, the listed Southeastern Asian seafood giant, is perhaps especially known for its sale of tuna and black tiger shrimp. Turnover is so extensive, namely USD 3.8 billion, that the conglomerate topped the position in front of Salmonbusiness' readers well-known Mowi.
Zero
Another Japanese company follow Mowi. Mitsubishi is perhaps best known for reliable cars, shipyards and Zeros – the long-range fighter aircraft. But the company, like the two aforementioned Japanese, is heavy reliant on importing salmon and other seafood into its home market. And one must not forget that Mitsubishi owns 100 percent of the shares in the former state-owned Norwegian, and multinational salmon farmer Cermaq.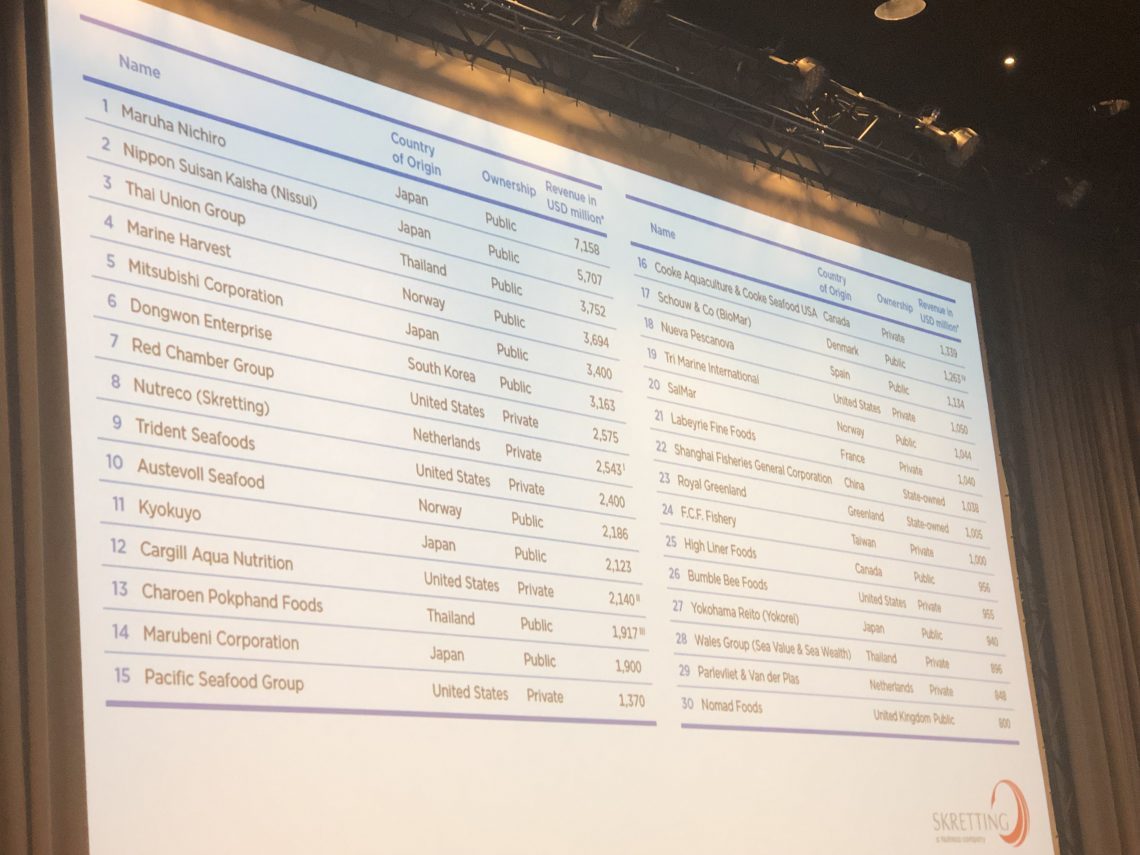 Most people live in Asia. And there are therefore plenty of seafood consumers. With that in mind, it may not come as a suprise that the next company on the list is from Asia. South Korean Dongwon Enterprise is headquartered in Seoul and fishes, refines and sells a comprehensive portfolio of seafood.
Red Chamber Group is the largest American company in the list. The business includes import, export, processing and sale of seafood to restaurants and supermarkets from its base in sunny southern California.
Strategically located
Skretting-owner Nutreco then follows. The Dutch feed group supplies both fish and animals with a sustainable diet and is owned by a Dutch private equity company.
From its base in Seattle, Trident Seafoods is strategically located, facing the vast fishing grounds of the North Pacific. The product portfolio includes whitefish, especially pollock, and plenty of wild salmon.
Number ten in the list is Norwegian. Located in southwest of Bergen, Austevoll Seafood has built up a comprehensive commitment to pelagic fishing and production of fish meal and oil, from fishing grounds in both the North Atlantic and Peru and Chile. Its most valuable asset is its controlling stake in the salmon giant Lerøy Seafood Group.