An example of a player in this category is Grieg Seafood. The Bergen-based salmon farmer has over time operated with high operating costs and thin margins. At the same time, the company has significant spare license capacity to grow.
In an expected tight salmon market in the time ahead, increased salmon prices will have a severe effect on the company's income statement.
Read also: A tight salmon market is expected for 2022, but should one buy Mowi?
Double
Consensus estimates obtained by Infront show that Grieg Seafood, according to analysts, is on track to double its EBITDA from 2021 to 2022 – from NOK 839 million (€84 million) to NOK 1,616 million (€160 million).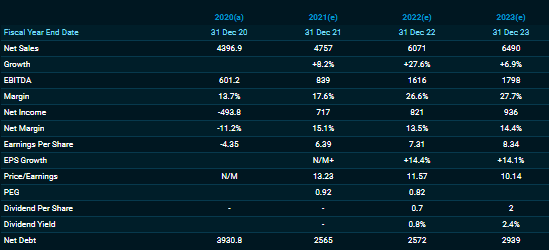 The company's opportunities to capitalize on a strengthened market, through operational and financial leverage, often called a "sunshine share", is the reason why the analyst corps highlights Grieg Seafood as a good buy.
Of the 11 investment banks that follow Grieg Seafood, eight have a buy recommendation, two have a neutral and one has a sell recommendation. The median price target is NOK 105, up 22 per cent from today's last traded share price on the Oslo Stock Exchange.
"Our price target is 13x/11x 22e/23e (earnings per share – editor's note), which is a massive discount to the rest of the sector trading at 17x/15x," wrote Pareto Securities in its latest updated analysis of Grieg Seafood.
Gearing
Another company that, like Grieg, has undergone extensive volume growth, both organically and through acquisitions, in recent years is Norway Royal Salmon (NRS). The estimate from the analysts also indicates a doubling in EBITDA here from 2021 to 2022. The operating profit before depreciation is expected to increase from NOK 523 million (€52 million) to NOK 1,026 million (€100 million) from last year to this year.
In contrast to Grieg Seafood, NRS also offers a fairly generous dividend yield, of 5.1 per cent, to its investors.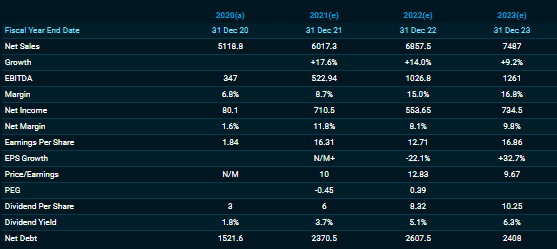 Of the ten investment banks covering the company, nine of them have buy recommendations. The median price target is NOK 220, which gives an upside from the current price level of a comfortable 35 per cent.