The average price for the first four weeks of 2021 is EUR 4.2. This is EUR 3.2 lower than the average price in the same period last year.
The salmon market is sloppy. And has been for quite some time. The reason is, as is known, the COVID-19 virus, which has shut down significant parts of the Horeca segment (hotel, restaurant and catering). Thus, the buyer side is dominated by price-conscious supermarket chains.
The market is particularly burdened with big salmon. There is plenty of it due to impeccable growth conditions in the sea in autumn and winter. At the same time, the intercontinental markets, which prefer big fish, have reduced their purchases partly due to lower flight activity.
Near break-even
The salmon price, for farmers, has been around EUR 4.2 for half a year now. It is close to break-even for the majority of the salmon companies.
Major producer Mowi recently reported a production cost of EUR 4.28 per kilo in the fourth quarter. In practice, that means zero profit for fish sold in the spot market.
The winners in today's market are those who have low production costs – and have secured long fixed-price contracts.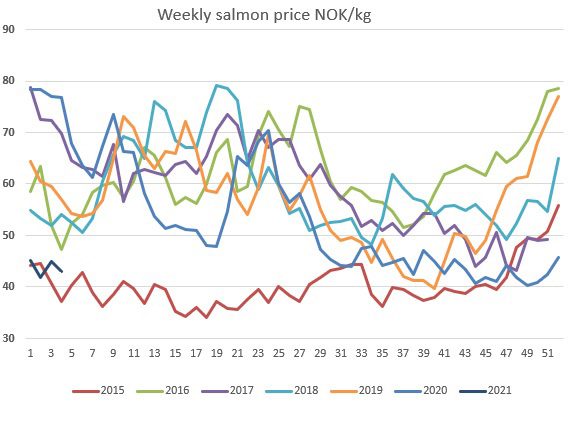 Upturn
The investment banks covering the salmon stocks on Oslo Stock Exchange have long envisioned a radical strengthening of the salmon price, starting in the second half of the year. Yesterday it was announced that DNB Markets has lowered its price estimate for the year from EUR 5.7 to EUR 5.4. However, this still means a massive upturn from spot prices seen so far this year.