A truck carrying live salmon overturned in Chile on Wednesday afternoon, spilling its contents on the street as traffic tried to navigate around the fish floundering on the ground while residents scrambled to get their share.

The driver of the truck was hurt and was treated by firefighters at the scene and later sent to the hospital.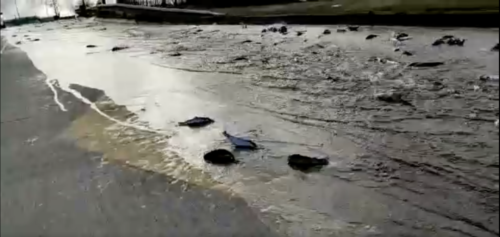 It is unclear who owns the salmon or where they came from but the accident happened on the streets of Puerto Montt in the Los Lagos region, which is the hub of the salmon farming operations in Chile.
News outlet Biobiochile described the street as a "river of salmon" and a photo shows locals carrying plastic bags scrambling to catch the fish flowing with the water.