Aquaculture was not immune to the so-called great resignation seen across various industries during the pandemic, but while the process of hiring talent is becoming smoother with the world starting to reopen, the past two years may have left a lasting legacy.
The trifecta of a thriving industry, an acute labour shortage and a re-evaluation of personal values has made today's job candidates even more determined about what they want, where they are willing to relocate and how long they are willing to work, says a Norway-based recruitment specialist.
As the job seeker is now even more entrenched firmly in the driver's seat, employers may have to go to even greater lengths to find the right talent and to keep them. Employers are also increasingly willing to look at candidates from allied industries such as agriculture, food service and IT, to fill roles.
"I can I tell you 100 percent that the market has been a candidate-driven market for quite a while, but today it's even more so," says the CEO and co-founder of AquacultureTalent, Cristian L. Popa Aved.
The recruiter, which has presence in Europe and North America, says the pandemic has forced a rethink of how people work and what they value.
"We've seen many Scottish (employees of clients) who have decided to move back from the US to Scotland at the start of the pandemic. We also we had a couple of Americans who decided to move back to the US. So we have seen it both ways. There was also migration within the United States. We have seen people who wanted to relocate back to, for example, Virginia from California. And so this happened on local, national, but also international level."
"The candidate's value has increased a lot. I'm not talking only about the salaries tied to the role," he says.
Quality over quantity tops employers' demand from recruiters, says the recruiter, who counts among the company's clients salmon producer Mowi and biotech firms Benchmark and Biomar.
"They are focusing more on quality. It is better to bring in three people that they know are going to be with them for the long term, than five people (who may not all stay)."
But the challenge doesn't end with the candidate and employer signing the dotted line. Retaining them could be equally challenging.
"The most important thing is to be transparent about the company culture and be very clear about the role that they are trying to recruit for," Popa Aved advises. "It's very important both for the company and for the candidates to do a very good due diligence on the role. And to communicate. It's very, very important to communicate well with potential candidates and with the actual candidates when they're already in the role."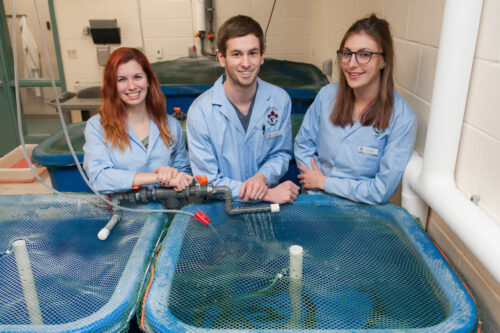 As for potential candidates, he says there's no such thing as a "perfect candidate" who ticks all of the boxes that a role requires.
"I will advise candidates not to worry if they do not fit the role 100 percent because companies, and also us recruiters, are very flexible. We find the skills needed in other type of candidates, so it's very important for candidates to apply even when they are not sure. It's important to be very open about what they can do, what skills they want to develop in their personal and professional life, and at the same time, be very determined – this is one thing that we like, what our clients like, what the hiring managers in the industry like."
Bringing in candidates from overseas because of shortage of local job applicants hasn't been easy when countries' borders were closed in the early stages of the pandemic. Anecdotes of employers and candidates meeting in third-party countries in order to get around border closures were not unheard of. "Now, it's a little bit easier because traveling is possible if you're vaccinated or you do a COVID test," says Popa Aved.
But the reality remains: aquaculture has had a labour force shortage for many years. He advises employers and the industry at large to look closer at the reasons it is not attracting enough workers. "It's not the easiest industry, of course, but at the same time, I don't believe that everyone out there knows how exciting and what possibilities are in this industry."
As part of their regular community outreach, employers should showcase "how it is to work in the company, how people thrive over there, what successes they've had with their own people," he suggests.
"Fish farming is a solution that works from our perspective, the more qualified people coming to the industry better the industry will be," he concludes.