At BioMar's feed testing unit in Hirtshals, around 30 different trials are carried out annually, in order to find the fish feed of the future.
In the middle of the North Sea Research Park, between Hirtshals largest tourist attraction, the North Sea Oceanarium, and the land-based fish farm for Danish Salmon is BioMar's feed testing unit, one of the largest privately owned in Europe.
Feed test unit manager Miguel Martin said that here in Hirtshals, they carry out some 30 different trials annually. Which done in over 300 tanks, in 14 different RAS systems.
Martin stands in front of a tank and looks at salmon that swims around and around in one of the 30 tanks where they are currently carrying out feed trials on salmon. Above the tank hangs a red net to ensure that fish don't jump out. Over there again, a black box with a conveyor belt with feed on it. It moves very slowly. Martin doesn't even know what kind of feed it is.
"Those who work here should not know it either, to avoid that we give any of the feed an advantage over others because we want it to perform better," he said.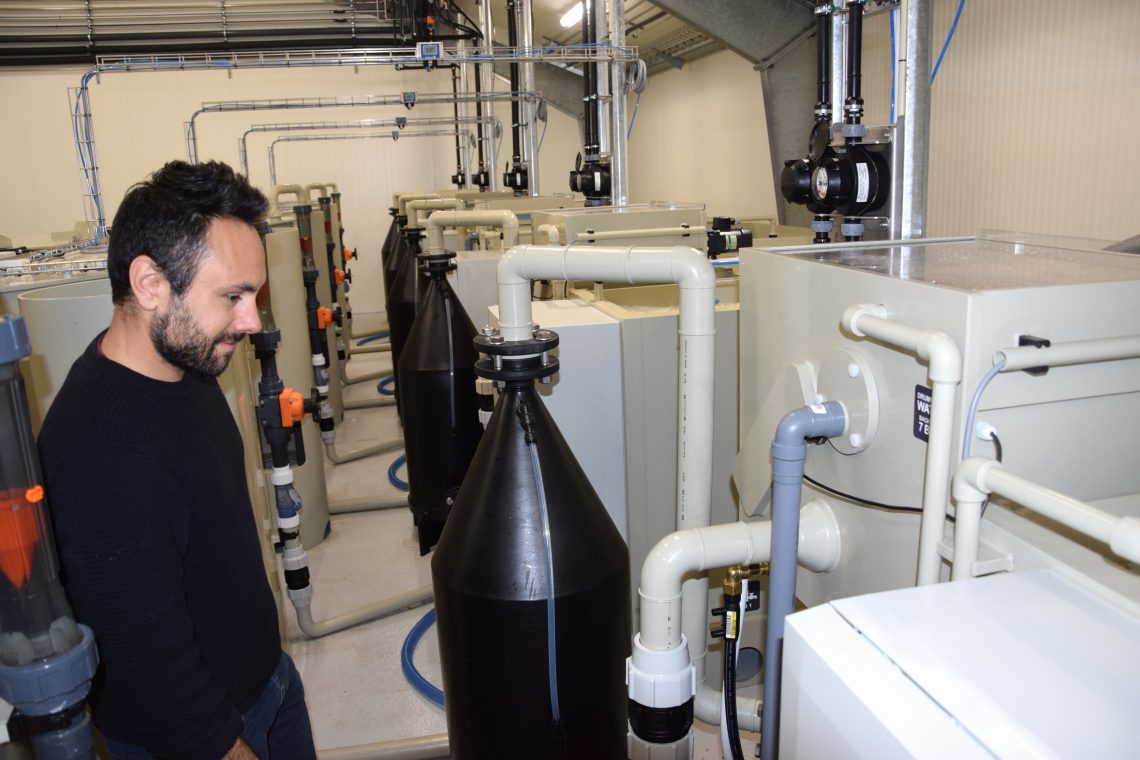 Running the tests
Along the wall of the room is a series of pellets. Fire, wind, cloud, and lightning are just some of the code words written on various bags.
"I like when employees give the feed password in this way. That makes it easier to separate them," said Martin.
Before the trials come to Martin in Hirtshals, there are a number of researchers who work out what to actually be tested and how.
"They start with a product case. They find a need in the market and see that we need to improve this in our feed. Let's take a hypothetical case. Something that doesn't make sense. We want green pellets instead of brown because the market wants green pellets. Then the researchers start planning and designing an experiment to improve the color of our pellets, and make them green," Martin explains.
"They decide what to do and how. Then the task of performing the experiment is sent to me. I will run a trial with these characteristics, with so and so many tanks and in this type of water, can be the guidelines I receive," he said.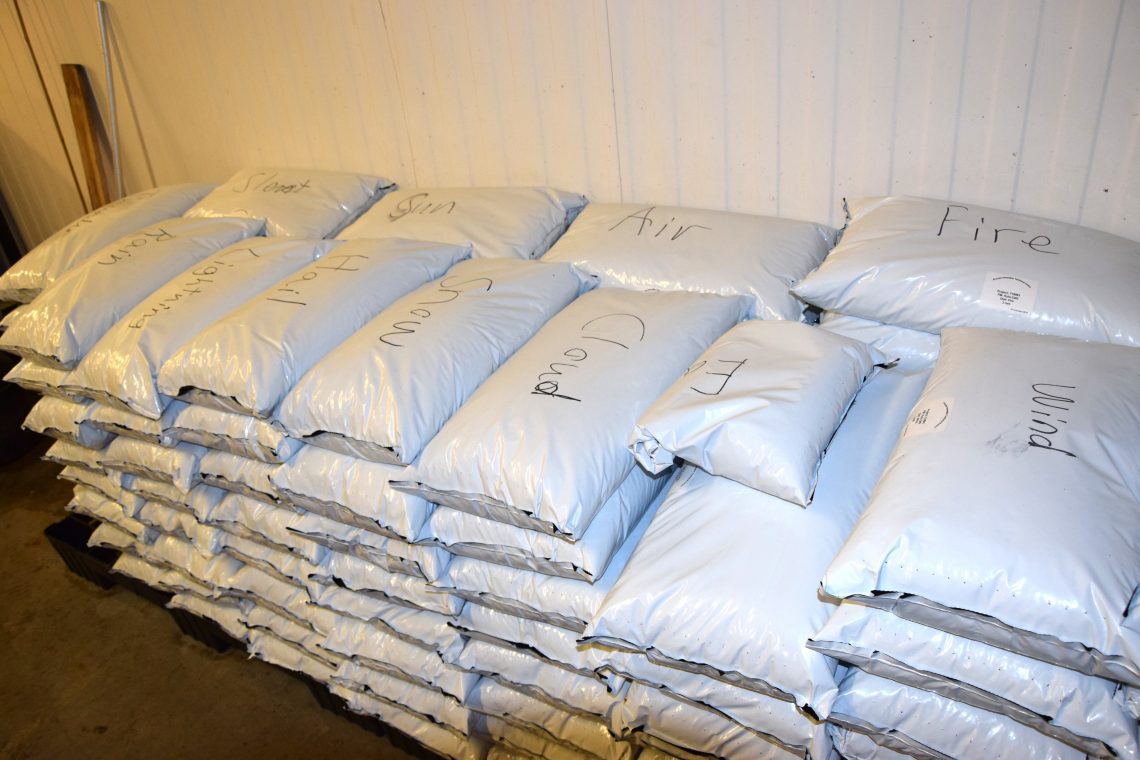 Always hoping for the best
Thanks to the location by the North Sea, the feed test unit has access to salt water, which also makes it ideal for saltwater fish samples. The pellets come in large bags from the technology center in BioMar's feed factory in Brande, Central Denmark.
"We always hope that our trials will have good results, but that is not always the case. We can find out that green was not the color you wanted, but that is research. Sometimes you get good results, sometimes not," said Martin.
The feed test unit has compartments optimized for different fish sizes, fish species, and purposes, and all systems can be manipulated to satisfy a variety of predefined test conditions. In the RAS systems, Martin can control many different parameters. Oxygen, temperature, light, PH, alkalinity, nitrogen compounds, nitrite and nitrate.
"The main goal is to deliver good quality data. The researchers give us guidelines for the trials, so we do everything needed to implement them. We get the fish, we get the necessary equipment and materials, and we arrange for the conditions for the experiment to be right. Temperature, oxygen saturation in the water, whether it be salt water, freshwater or brackish water and so on," Martin explained.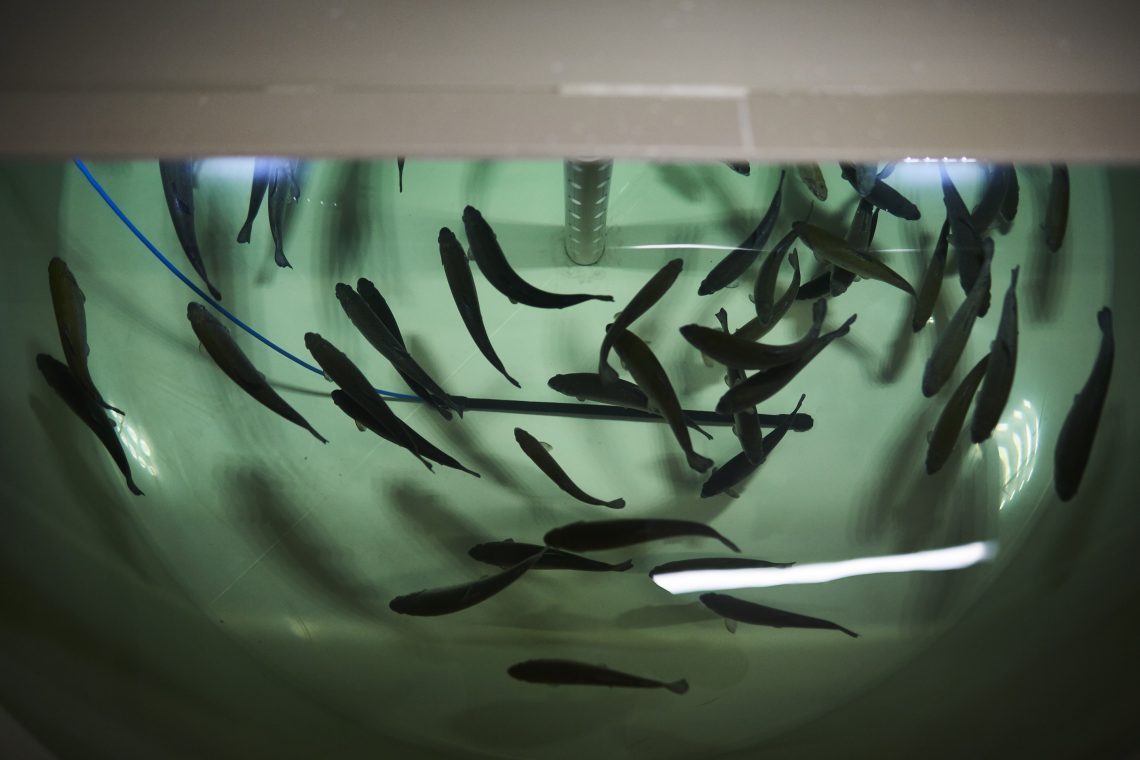 Feces
At the exit of the room, a number of feces samples are placed on a table. The most common way to collect results from a trial is to test feces.
"Because we know the composition of the feed and when you analyze the feces one can look at the difference in what goes in and what comes out. You can see what the fish actually digests. There is a lot of information in it. It sounds simple, but you can find out many little things," said Martin.
"But sometimes the trial can be for something specific, so we measure that parameter specifically. One can also analyze organs, tissues and also the water, depending on what the researchers want," he said.
Monitoring fish is also something they must do.
"Most of the time, to see if the experiment is successful or not, we analyze samples. But we also monitor the fish's behavior. If you want a good test, you must have healthy fish. Unless the trial actually is about sick fish. But most of the trials we do are with healthy fish," Martin concluded.