New product launch part of a strategic evolution by the UK processing giant.
As the largest seafood processor in the UK, Young's currently supplies approximately 40 per cent of all the fish eaten in the country every year and is the single largest supplier of all chilled and frozen salmon in the UK.
But high market share can also bring problems, particularly when it comes to innovation and a willingness to take risks. That is why Young's product releases are worth watching.
Last week, Young's announced a new product for its chilled range with the launch of its 'Red Thai Infused Salmon'.
What was behind the decision to diversify like this?
According to data provided by Young's, sales of products containing chilled or frozen Salmon grew by 15 per cent (+£127m) in the last year and 32 per cent (+£240m) over the past 5 years. About 30 per cent of all chilled and frozen seafood now contains salmon.
As Marina Richardson, Marketing Controller at Young's explained to SalmonBusiness, this kind of new product is part of a strategic evolution by the processor.
"Investment into new product development at Young's is a key priority for us as we continue to drive the market across chilled and frozen."
Bigger than bacon
Richardson elaborated, "Salmon is the number one species across chilled & frozen seafood and is now worth over £1 billion, making it bigger than bacon rashers, cider, sparkling wine & instant coffee and almost as large as butter and eggs."
"63 per cent of UK households (around 17.8m) have bought a salmon product in the last year, which is around +500k more than bought last year, and 1.2 million more than were buying five years ago."
Richardson continued, "Growth in Salmon has not just come from new shoppers, with existing shoppers buying products at a rate of just under once a month (11.5 times p.a.) up from 10 times per annum last year and 9.5 times, 5 years ago."
Young's see salmon as a gateway fish as salmon sales have increased by £88m in the UK over the past 12 months, an increase of 25 per cent. Salmon is now worth almost twice that of the 2nd largest chilled & frozen specie, Cod and is three times larger than both Warm Water Prawns and Haddock.
Changing eating habits
Richardson continued, "With the pandemic, people are eating a lot more at home. Only 15 per cent of salmon shoppers actually buy added value products. So this was a great way of getting salmon shoppers into the added value category."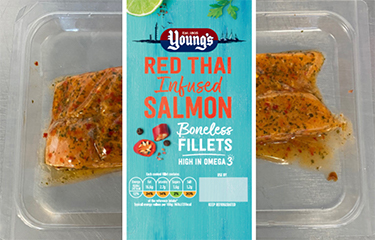 "We know that 70 per cent of shoppers are looking for inspiration for seafood. They maybe only have one recipe. And if they're just buying natural salmon, they maybe only cook it two different ways."
"It's about broadening that repertoire and getting consumers to prepare it in different ways."
No such thing as a frozen seafood shopper
Iain Lowrie, Category Insight Director for Young's added, "There is no such thing as a frozen seafood shopper and a chilled seafood shopper – people do cross between the categories."
"The kind of consumer that buys into into seafood generally – and quite often salmon – tends to be slightly older, a little bit more traditional. What we're trying to do is is actually attract the younger consumer more used to eating things out of the bowl, and not sitting down for a proper meal."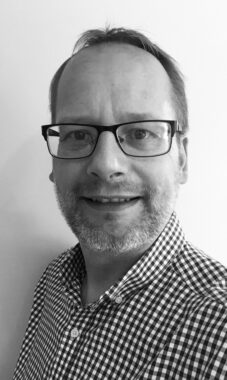 The move by Young's follows the introduction of branded salmon packs in UK supermarkets by Mowi earlier this year. Like Mowi, the new offering from Young's uses slick design to appeal to a younger audience.
"I think we're all trying to become a little bit more modern to appeal to a wider audience where there is a nervousness about cooking seafood," Lowrie said.
"Often consumers are telling us that they open up their fridge, and they say 'I don't know what we're going do with that'. But as soon as you add flavour, you've got half your meal, and then effectively all you need to do to add is a carbohydrate."
Segmentation study
As a category, fish is competing against meats and poultry which are bigger – and quite get more focus in stores. How does Young's deal with this issue?
"Recently we launched our segmentation study, to try to understand the different types of consumers and then we've got one particular segment that we call a fish fanatic and they account for about 8 per cent of UK households but around about 15 per cent of the seafood category in terms of spend," answered Lowrie.
"Not only do they buy more seafood, salmon and smoked salmon in particular, they also spend a disproportionate amount on their groceries – around £800 more per annum than the average household."
"If can you attract this consumer into your store, not only do you get the benefit of that increased spend on seafood, you're getting that benefit of everything else that goes into that basket, high value items such as wine or accompaniments such as prepared vegetables and desserts."