Japan is on the verge of indoor salmon farming revolution and at the forefront is Tetsuro Sogo who is pioneering bacteria-based filtration technology. Is this the next (and clean) big thing?
Japan's love affair with salmon is bittersweet. Despite being an island nation, its warm, rough waters across the Japan Sea makes industrial salmon farming a la Norway impossible and commercially unviable. "The ocean's temperature is too high and its only possible from November to May, which makes harvest too small if its only once a year," said Sogo to SalmonBusiness.
Inwards
Today, the chief operating officer at FRD Japan, Tetsuro Sogo is looking inwards to meet his country's demands. And demands they are. Japanese consumption of salmon is mainly wild, according to Hokkaido National Fisheries Research Institute, salmon habits in Japan grew from 310,000 tons in 1988 to 420,000 tons in 2013. In 2016, Japan imported 34,000 tons of Norwegian salmon and that number is set to grow.
While he had career importing salmon from Chile and Norway, Sogo wondered how he could farm salmon commercially, without the high-costs and risks of an indoor salmon farm. "Our aim is monetise the plant and to make a profit – to enable new investors," Sogo said.
Sogo's idea which was born out of a sewage treatment technology pioneered by the firm, FRD. In 2008, it developed a breakthrough bacteria technology which by the following year was being used at an aquarium in Tokyo. He soon realised it could be used for salmon farming.
Breakthrough
"We had no business experience of RAS. But I made made a proposal to start a salmon farm that difficult. We started in 2015 and harvested tons tons of salmon in 2016, which was sold to supermarket," recalled Sogo.
No natural seawater is used in the land-based aquaculture system developed by FRD. Instead it uses advanced bacteria-based filtration technology to cycle artificial seawater ie: tap water and added salt, through a closed containment environment. Its patented technology deploys bacteria to consume the ammonia, so energy-intense recirculated aquaculture systems, or RAS, are not used.
As with conventional aquaculture systems, the need to adjust the water intake temperature is a major cost factor. Sogo added that FRD system saves on costs but it also dramatically reduces the risk of fish disease contamination.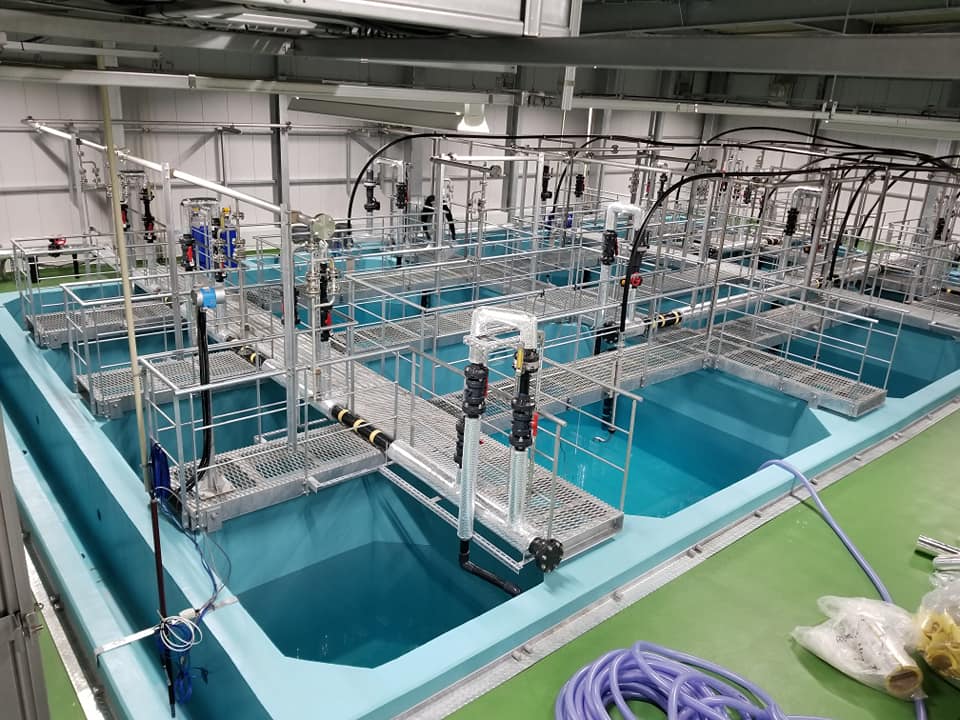 "Our water exchange ratio is approx. 0.2% a day which means we loose only 0.2 tons of water/day from the system water (100ton) by evaporation and drum filters," he added.
Mitsui
In April 2017 the Japanese trading house (and one of the largest corporate groups in the world), Mitsui, invested eight million dollars in the company new for a pilot plant in the Chiba prefecture to produce 30 tons of trout a year. "That's the first target,' said Sogo, "then we want a commercial plant capable of producing 1,500 tons per year."
While most of land-based salmon producers operating in Europe have namely so far lost money on the fish, SalmonBusiness were interested in FRD's production costs per kilo.
"We cant say our cost. Yet," answered Sogo. "Its impossible to compete right now with salmon farms in Norway. But if you can locate our plants in places in China and Japan then you can cut out the need for air flight costs. We are looking at the places where thats' the ideal."
Long term, the dream is to build a plant in the distribution centre that belongs to a supermarket chain so that they could harvest and distribute salmon in response to the orders comes from each stores. "This is our future," he insisted.
SalmonBusiness wondered what attitudes were like to indoor salmon products in Japan.
"Japanese have high standards, some might think positive as it won't have any antibiotics since our plant are free from diseases or parasites. Furthermore with Japan made sushi, 90% of farmed salmon comes from Norway and Chile – if you can do it commercially and moreover domestically then it will be appealing to them."