The future, as AquaBounty sees it, is bright, despite headwinds that have caused its share price to lose nearly 87 percent in value over the past five years.

The company that introduced the first genetically modified animal into the US food supply chain says it is positioned to deliver the "price and freshness" that salmon consumers want. Purchase intent, or the extent to which customers are inclined to buy its genetically modified salmon, is 70 percent – double what the best new products have seen in research. Moreover, it said general awareness of GMO as it relates to food has increased since 2019.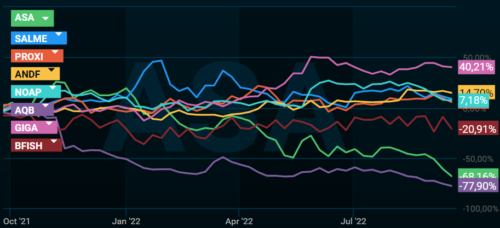 But in the past six months ended June 30, it made only $2 million in revenues and posted $12.7 million in costs and expenses, amounting to $10.6 million in losses.
Its share price dropped 86.7 percent over the past five years. The current market downturn is hitting other land-based salmon farming companies too, but not as hard as AquaBounty (see purple line in graph).
Bond financing viewed as milestone
"I don't think the market has yet fully valued us and our capabilities and our value," says CFO David Frank, in a call with analysts Thursday, September 15. "And part of that is just the uncertainty that the market sees regarding the bond financing. They see it out there, we haven't achieved it yet, so I think the market is looking at that as a milestone. And as soon as we do complete that, I think the market will give us credit for that."
Frank said the company has been working with Wells Fargo for almost a year now on the transaction. The target is to start marketing the bond financing deal in mid-November, once the cost estimation and the timeline involved in the Ohio plant's construction is completed. The Ohio plant, AquaBounty's second in the United States, suffered setback because of inflation. The company is raising funds to continue building that plant.
'War chest' is strong
Frank is confident that the company's strong balance sheet – $203 million of the $220-million on its balance sheet is equity – will help move that transaction forward.
"There are folks out there that don't have on their balance sheet the resources that we currently have, and this is helping us," he says.
"No one was more surprised than Sylvia (Wulf, CEO) or myself when we were able to build the 'war chest' when we set out to construct the Ohio farm. But we knew that on our own, we couldn't afford to construct it just with equity; that would not be a prudent way to move forward. We knew that in order to attract debt, we had to build-up equity, and we succeeded in doing that."
It outlined its expansion plans within and beyond North America last Thursday, but it does not look like the bullish plans moved the market.
"We understand the value inside of our company, and our goals. We need to do a better job in making the market aware of the value of this company," Frank said.