The British fish health company completed a major restructuring in 2020.
Benchmark has announced its Q1 unaudited results for the 3 months ended 31 December 2020.
Revenues from continuing operations were 18 per-cent ahead of the prior year,  from GBP 24.6 million to GBP 29 million.
Operating loss decreased from GBP 5.5 million to GBP 3.2 million. Operating costs of GBP 9.3 million in Q1 were 5 per-cent below the prior period as a result of a groupwide effort to "reduce operating costs and a reduction in marketing and travel expenses in the period as a result of Covid-19 restrictions".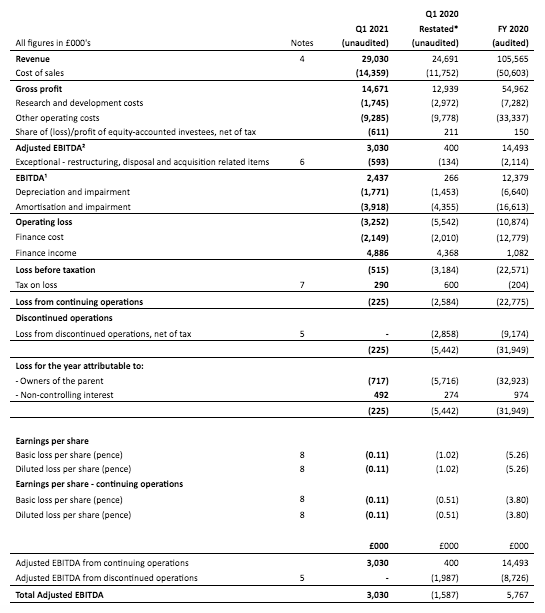 Benchmark said that the salmon industry continues to be resilient through the ongoing pandemic with continued investment in the emerging land-based salmon farming segment.
"We have good visibility of revenues in Genetics for the full financial year with normal seasonality, underpinned by a long production cycle in salmon and a resilient salmon industry, together with the ramp-up and expansion of capacity. We expect the shrimp market to remain volatile through the coming months with some recovery in the Asian markets likely but challenging conditions continuing in the Americas. In Health, we also expect to see the first revenues from BMK08/CleanTreat during H2 FY 2021 subject to regulatory approvals," wrote Benchmark.
Benchmark boss and seafood veteran Trond Williksen agreed to become CEO last year, as he believed that company was a "sleeping giant". He has led Benchmark on an extensive trimming strategy, such as the sale of its former veterinary and diagnostic services business to animal health giant Pharmaq.
"We have had a positive start to 2021 with good trading, improved Q1 profitability and delivery against our strategic priorities in each of our three business areas. The benefits of operating as a streamlined, increasingly integrated aquaculture business are starting to be realised. Our focus remains on becoming sustainably profitable, maintaining financial strength through the ongoing pandemic and continuing to invest selectively in our business to deliver future growth," said Williksen.