Maurice Cardinal, the company's vice-president of business development and communication, says the company is developing a new RAS IMTA in-land eco-system which should benefit salmon as well as other species.
He added that people 'have to get on board' with plans to shift away from open-net salmon pens after two industry workers told Salmon Business it would hurt their trade.
Mr Cardinal said: "People have to get on board for environmental as well as marketing reasons with the plans the Canadian government has to shift away from open-net salmon pens."
Justin Trudeau, the Canadian prime minister and Liberal Party leader, announced the pledge in his manifesto. It promised to phase out all open-net salmon pens along British Columbia and transfer them instead to closed-containment facilities, such as those which are in-land.
But he did not win an outright majority in the Canadian parliament so it is unclear if the policy will now be put forward. Two other parties – the New Democratic Party (NDP) and the Greens – also pledged to end open-net pens.
Speaking to Salmon Business last month, two workers told us that the policy would be disastrous for their business and their occupation.
The need for change
But, the vice-president of business development and communication at fast-growing seafood company, Gold River, has told Salmon Business 'we have to change' how we're doing things even if it only 'helps incrementally'.
Mr Cardinal said: "We all have to change how we're doing things even if it only helps incrementally. We all have to be the change we want to see."
He added: "The Canadian government's recent decision is upsetting a lot of people, they are scared they're going to lose their livelihoods when open-net salmon farms go in-land."
"Unless there was a way to modify what is currently happening in the ocean, I can't see how we cannot take fish farms in-land if we want to do this properly from a sustainability and environmental perspective. Moving in-land is a natural progression."
"I have friends in the fish farming industry who are scared. I don't know what to tell them except 'you have to get on-board'. Even though our ideas at Gold River are a radical departure from the norm, our industry overall has to change how we're doing things, even if it only helps incrementally."
Five-year period
Mr Trudeau's plan is to remove open-net fish farms in British Columbia over a five-year period, but Mr Cardinal thinks that's too ambitious.
"I can see this thing happening over a decade," he told Salmon Business.
"But why would we want to undermine a system, and utilise the experience of the engineers, subsidise them, or give them something to move in-land."
"I think if we had our operation running at full capacity and had companies open up like us, we still wouldn't be able to meet global demand. So what's the rush to push companies out? We should be helping them develop. I have a lot of friends in that industry and they're stunned. I can't see it happening over the next five years. We need to make the systems more ecological friendly, but you can't do that overnight."
Salmon expansion
Gold River currently only markets finfish it captures wild, but the company is developing a wild-caught RAS IMTA in-land eco-system that will at first raise sable and halibut, and also as importantly, seaweed. Once they have their system in place, tested, and running smoothly, which could take a couple of years, they will investigate how they can adapt wild-caught salmon to grow out in their innovative environment.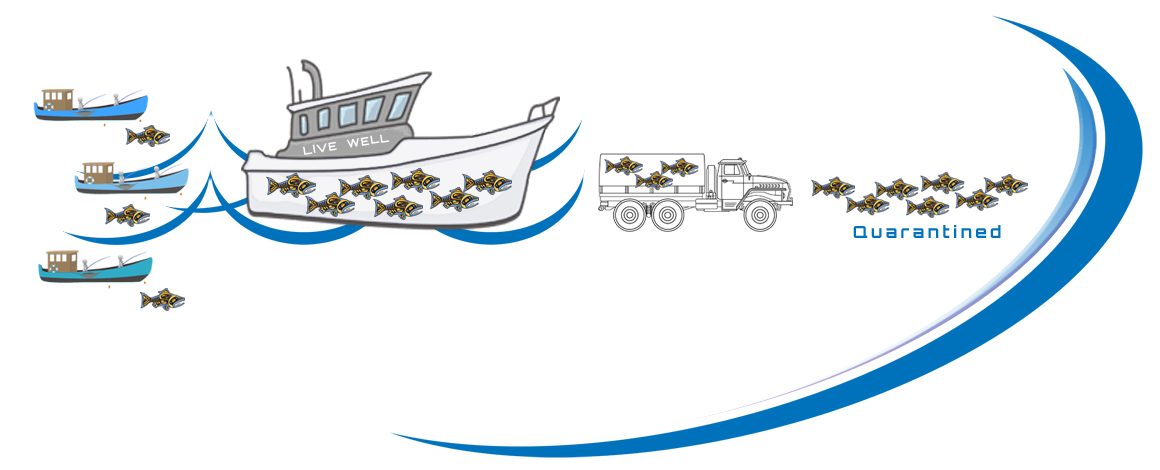 Mr Cardinal said: "Many different industries are already involved with in-land salmon farming. We're also excited to be involved, but at a completely different level respective of wild-caught RAS IMTA raised product. However, as everyone in the industry knows, the bio-technology that supports what we are doing is incredibly challenging and complex. We are in the first phase of building our eco-systems, and still several months away from having our first recirculating system."
"We have property next to the ocean so we can easily move our wild fish from the ocean into quarantine. Our focus is exclusively on wild-caught, in-land farming, that eventually will also include salmon, but we're not there yet. We chose sablefish, lingcod, and halibut because our founder and business owner, Walter Simpson has extensive experience fishing and also raising these species."
Mr Cardinal added: "Our system is one-of-a-kind because we use bio-remediation techniques that create a holistic environment for or fish. It means our wild-caught fish will live in an RAS IMTA environment that uses bi-valves like mussels and oysters to keep our water clean, which btw, will also be free of mercury and microbead plastics, something you can't do in the ocean.
"We're going to first raise species that will deliver a cost-effective balance between premium quality and volume. Quality is a large part of our in-land eco-system mission. Our process is innovative, which means we have to educate people at all levels, including politicians. We're doing things that will reinvent fisheries and improve our oceans and earth, and to do so we're bringing on board very specific marketers, bio-specialists, technologists, and engineers."