Pigs and chicken are better options for the climate than land-based farmed salmon.
Land-based salmon farms are popping up in ever-new countries and regions. Low production growth in traditional sea salmon farming, coupled with continued high demand growth, make it attractive to build fish farms on land.
The first weeks of 2020 have delivered salmon prices well over EUR 7 per kilo. It is then profitable to raise salmon with feed prices of EUR 1-2 per kilogram.
Especially if one can brand land-based plants as "sustainable".
Defining
Sustainability is an airy concept. In these Greta Thunberg times, it is often associated with low climate footprint, but other aspects such as resource-efficiency and low pollution can be adequate.
For many industries, however, the fight for climate, and for man-made climate change, is completely defining. It is by many called the most important fight of our time.
It requires some tough and controversial choices.
Norwegian financial Dagens Næringsliv recently commented and argued that if Norway again found billion-barrel sin the North Sea, the oil should be left untouched – for the sake of the climate.
Equinor, formerly known as Statoil, has not only changed its name but is also conducting significant "greenwashing" of the oil business. Renewable energy, not least in the form of wind turbines, has become an important focus area.
They are not alone.
The tools are large. Businesses are required to clean up greenhouse gases. They must buy climate quotas and rig production. Yes, the climate-friendly industry seems to be crucial for many industries.
But not when one wants to facilitate production growth in salmon farming.
Tesla
Open cages have the advantage that they benefit from fully tempered and oxygen-rich seawater. The Gulf Stream in the North Atlantic and the Humboldt Current in the South Pacific mean that the water is neither too hot nor too cold. Powerful currents provide swimming resistance and fitness for the fish. One does not have to oxygenate and pump water. Nor is it necessary to purify the water, which is crucial and energy-intensive on land. Nature itself takes care of this.
By using sea area and depth, production is also very area efficient.
As if that is not enough, salmon are significantly more efficient than livestock at absorbing feed and converting this to meat weight.
"Salmon is a Tesla," the former Mowi CEO Alf-Helge Aarskog once stated.
It is primarily the fight against lice and escapes, in that order, that stops authorities from handing out new salmon farming licenses. The picture is quite comparable in most salmon producing countries, such as Scotland, Ireland, Canada, Iceland and the Faroe Islands.
This is also an important motivation for building aquaculture facilities on land. Zero lice and zero escape.
But climate-friendly it is not.
Better with pork and chicken
While classic salmon farming can be considered a climate winner, land-based fish farming is not. Pork and chicken production appears to be significantly better alternatives if one is concerned about the climate.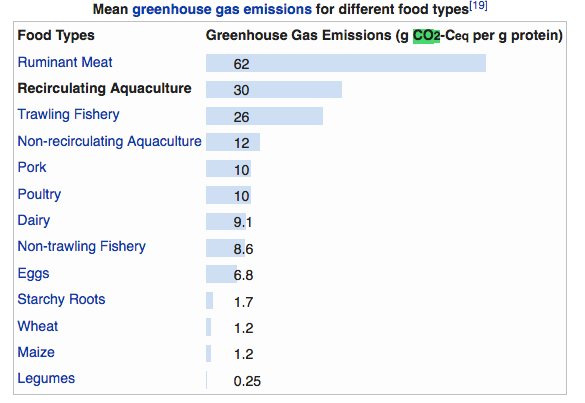 Here, of course, a distinction must be taken between overseas land-based facilities and fish from land-based salmon farms to be consumed locally. For farmed fish in overseas markets, in Asia and the US, where one is not self-sufficient with fresh salmon and consequently must fly in supplies, the climate imprint on land will be competitive and comparable to air-cargo driven fish.
But land-based salmon farms in operation or under construction in France, Spain, Denmark, Poland, Russia and Norway are not a good choice for the climate.
In British Columbia, Canada, the Liberal government has begun efforts to discuss phasing out open-pen cages by 2025. Climate-friendly jobs and salmon production are being scrapped. Probably with the hope that they will be replaced by closed-land facilities in the same area. While the well-tempered coastline of British Columbia is well-suited for open cage aquaculture, remote areas here don't have any competitive advantage for land-based salmon production. On the contrary. It will be both long and expensive to transport the fish to the market.
Land-based salmon farming facilities will, to a large extent, be placed near the end customer.
It is best for the climate.