Government 64-page report highlighting options other than traditional open-net pens is released.
Fisheries and Oceans Canada (DFO) has released its much-anticipated State of Salmon Aquaculture Technologies, 2019, report which looks at the feasibility of salmon aquaculture technology in British Columbia, Canada.
Hurdles
The country is the 4th largest farmed Atlantic salmon producer in the world, farmed salmon continues to be B.C.'s most valuable seafood export by far. Currently, 94% of B.C. salmon total comes from traditional open-net sea pens.
However, the industry faces some upcoming hurdles – including a BC government and First Nations plan to phase out 17 salmon farms in a wild salmon corridor by 2023. Minister of Fisheries, Oceans, and the Canadian Coast Guard Bernadette Jordan said she is coming up with a plan to phase out open-net aquaculture in B.C by 2025.
This report is a crucial next step toward an Aquaculture plan for BC that is evidence-based and responsible: https://t.co/Ky3cX0UdCI

— Bernadette Jordan (@BernJordanMP) February 4, 2020
Strong interest
"There is strong interest from government, industry, non-government organizations and Indigenous peoples to accelerate the adoption of salmon aquaculture technology that minimizes environmental impacts in British Columbia, Canada, while supporting rural economic development, employment, and the security of Canada's food supply," it wrote.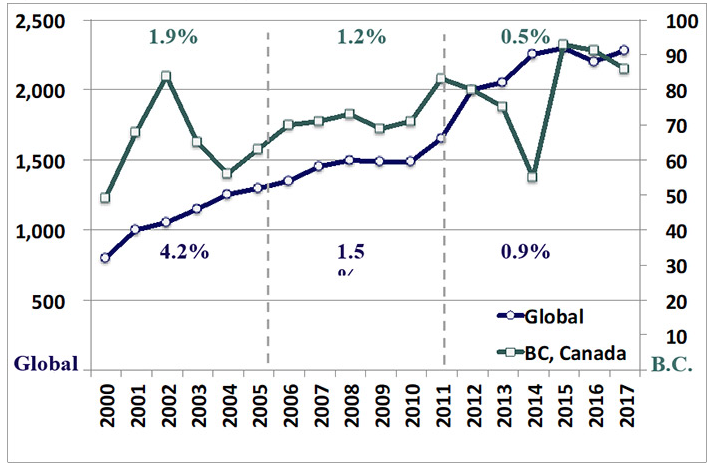 The report highlights that it was "pressured from governments and stakeholders to adopt more environmentally friendly technologies challenges such as sea lice and algal blooms that affect salmon production".
This includes:
Land-based recirculating aquaculture systems (RAS)
Hybrids involving land and marine-based systems
Floating closed-containment systems (CCS)
Offshore open production systems
Other technologies that support these main production systems are discussed including: sensors and control systems, data analysis for "intelligent farming", feed innovation, transport and logistics, nets and mooring, robotics, and broodstock development.

Economic and environmental
The report looked at the economic and environmental strengths, weaknesses, and uncertainties for the four new production technologies.
For example for land-based RAS and hybrid systems, DFO said that BC is ready for commercial application in B.C., while the others still need five to ten years. "Land-RAS though less financially proven offers greater opportunity for expansion as long as this occurs in B.C. The hybrid system is likely more profitable and anchored in B.C., but expansion may meet challenges".
"Setting the course for new production systems in B.C., done properly, will move aquaculture beyond the contentious debate that has afflicted the sector for decades. New technology should be facilitated and encouraged so that improved systems replace existing ones," it wrote.
"This will not automatically happen within the aquaculture sector and will require a coordinated and concerted effort to put in place incentives, clear requirements, and the innovation culture that is critical. Building on partnerships between companies, other coastal resource users, Indigenous communities, and governments, a collaborative approach will allow all interests to participate in future success," the report added.
The full report is available here.