"I don't think that the content of the article was violating any ethics because it was only quoting BlueGrove's statements. But I agree with you on the matter of transparency," said Hatch Managing Partner and Co-founder Georg Baunach.
The Fish Site's owner Hatch has weighed on the question of its approach to content and possible conflicts of interest.
The Fish Site has been owned by companies with significant financial interests in the field they cover, seafood, for years. In May the news site was sold to Hatch Blue, billed as "the world's first sustainable aquaculture accelerator". It was previously owned by 5m Publishing, a media business which is still owned by Benchmark Holdings company.
Global investment fund Aqua-Spark is a minority investor in Hatch, and Hatch owns the Fish Site. Furthermore, Aqua-Spark is an investor in the Oslo-based company AgTech salmon feed start-up Cageeye (Bluegrove).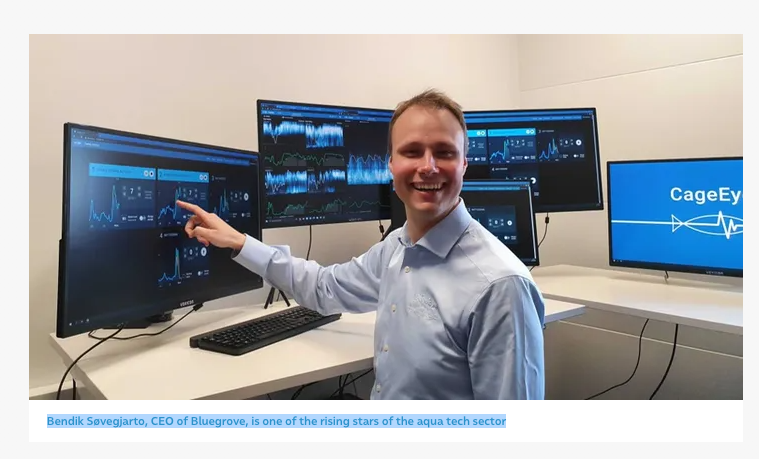 An article on the site featuring Cageeye, highlighting Bendik Søvegjarto, CEO of Bluegrove, as "one of the rising stars of the aqua tech sector" did not disclose this information.
SalmonBusiness asked its editor Rob Fletcher the following: Do you think this an issue for the Fish Site's journalistic integrity and independence? What do you do handle this?
At the time of writing, Fletcher has not yet responded to SalmonBusiness' request for the above answer. But he did respond to questions in a previous article.
Instead, Hatch Managing Partner and Co-founder Georg Baunach responded, confirming that Aqua-Spark is a minority investor in Hatch.
The aquaculture accelerator has around 20-30 start-ups on its portfolio in an effort to make conventional fish farming more sustainable. One of Hatch's startups, Finless Foods, wants to grow seafood in labs.
As Hatch Blue has significant financial interests in the seafood field they cover, what is then the relationship with the site? Is the site going to give favourable coverage to all the startups who participate in the Hatch program as well as its investments and to its partners? Is that the reasoning behind the purchase?
"If we would not keep a high level of integrity, there would obviously be a potential conflict of interest if Hatch would pressure the editorial team of the Fish Site to report Hatch's portfolio companies positively. I can ensure you that we take the journalistic integrity and independence highly seriously and are not influencing the editorial activities of the Fish Site. Similar to it was done before when the Fish Site was owned by Benchmark which arguably had a higher potential for a conflict of interest," said molecular biotechnologist Baunach.
"In addition, Aqua-Spark as a minority investor has no control over the Fish Site and its editorial activities," he added.
On the CageEye/Bluegrove article on the Fish Site, the co-founder said: "I agree with you though that we should have indicated the relationship between Aqua-Spark and Hatch and the Fish Site in this article. We will update this and include it in all future articles. Same for our own portfolio companies. For Aqua Spark's portfolio companies we will not do this because we can not see how the Fish Sites editorial team or Hatch could be conflicted."
Baunach said that he did not think that there were any media ethical issues on the reporting of the article.
"On a side note, I don't think that the content of the article was violating any ethics because it was only quoting Blue Grove's statements. But I agree with you on the matter of transparency. Thank for keeping us on our toes and please feel free to reach out to Rob in the future if you again feel that he is violating journalistic ethics."