The Fish Site editor Rob Fletcher says he doesn't think it's necessary to add disclaimers to stories which are financially involved with its owners, as he is "at complete liberty to cover the stories that I find interesting".
The Fish Site bills itself as the home of premium international fish news insight, analysis and features. The site has been owned by companies with significant financial interests in the field they cover, seafood, for years.
In May the news site was sold to Hatch Blue, the world's first sustainable aquaculture accelerator. It was previously owned by 5m Publishing, a media business which is still owned by the aquaculture health, nutrition and genetics business Benchmark Holdings.
At the time, its long-serving editor Rob Fletcher, on the new acquisition said that he was "very pleased that the site has been acquired by Hatch, as I feel their vision for the sustainable evolution of global aquaculture fits perfectly with the goals of The Fish Site."
Vested interests
SalmonBusiness wanted to know if the Fish Site had any vested interests in reporting stories, in which its new owners are financially involved with.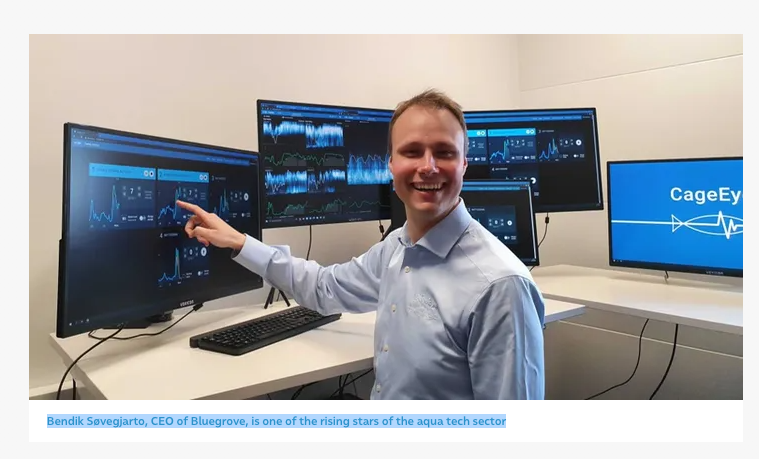 On the 15th of September, on the Fish Site article appeared on the Fish Site entitled "The salmon farming feed tech that's set to launch for other species" highlighting Bendik Søvegjarto, CEO of Bluegrove, as "one of the rising stars of the aqua tech sector."
Bluegrove is a holding company that owns Cageeye.
Aqua-Spark is a minority investor in Hatch and Hatch owns the Fish Site. Furthermore, Aqua-Spark is an investor in Cageeye (Bluegrove).
But that would not have been clear from reading the article as there was no disclaimer. To understand the media ethical question, a good example is the Washington Post, which was bought by the Amazon billionaire Jeff Bezos for USD 250 million in 2013. If the publication reports on the actual company Amazon, a disclaimer like this one is placed to remind readers of any conflicts of interest in the article.
CageEye
In the past few weeks, SalmonBusiness has also reported extensively on Norwegian IoT AgTech company, CageEye, which is also a part of Aqua-Spark's portfolio. CageEye and its newly established holding company Bluegrove valued itself at EUR 210 million after it acquired aquatech start-up Sealab. At the last financial statement, for 2018, CageEye had a turnover of EUR 0.4 million. Bluegrove has since then, acquired NorseAqua and recently also Sealab respectively. The accounts for 2019 are not yet known.
Key to the valuations were Bluegrove's claims that it had strategic partnerships with the IT giant Microsoft and BASF, the world's largest chemical company. Microsoft presented as key in one of their marketing videos. When this publication reported on it, the video was taken down and subsequently uploaded with all references to Microsoft taken out.
Furthermore, Karen Hammeren, director of communications at Microsoft Norway, stressed to SalmonBusiness that her employer did not have a strategic partnership with the Oslo-based start-up company.
Media ethical issues
Do you think there are any media ethical issues in the way the Fish Site had reported the CageEye article?
"As a media partner of the Animal AgTech event I agreed to cover one of the aquaculture sessions and thoughts Bendik's contribution to this discussion was the most interesting, which is why I focused on his comments. I'd be interested to know why you thought this might be unethical," said Fletcher.
Why did you not find the fact that both CageEye and HatchBlue, both minority-owned by Aqua-Spark was of relevance to the Fish Site's readers? Why isn't there a disclaimer stating this fact?

"There is possibly an argument for adding a disclaimer to Aqua-Spark stories. I don't think that this is necessarily the case for stories that relate to companies Aqua-Spark has invested in. The reason I've not added disclaimers in the past is that I am at complete liberty to cover the stories that I find interesting and neither Aqua-Spark, nor Hatch has ever tried to exert any editorial influence – this was the same when The Fish Site was owned by Benchmark, but I am happy to consider doing so in the future," he said.

This was at odds with what the Dutch-based Aqua-Spark and owner Hatch believes.
When this publication's editor addressed a tweet promoting the CageEye/Bluegrove story, Aqua-Spark replied: "You are right. We are a minority investor in @hatchblue1, who in turn owns the @thefishsite. A disclaimer should be in place."
You are right. We are a minority investor in @hatchblue1, who in turn owns the @thefishsite. A disclaimer should be in place.

— Aqua-Spark (@AquaSparkImpact) September 16, 2020
Do you need to write biased stories for your owners?
"A media partnership with an event, such as TFS had with the Animal AgTech Innovation Summit – as you know well – means that the media outlet agrees to publicise the event in exchange for admission to it. Again, it was up to me what elements – if any – I wrote up. The Bluegrove story struck me as the most interesting, from the events I did tune into, which is why I chose to cover that. Reporting what a company said in their own words, is not an example of writing "biased stories for my owners"," said Fletcher.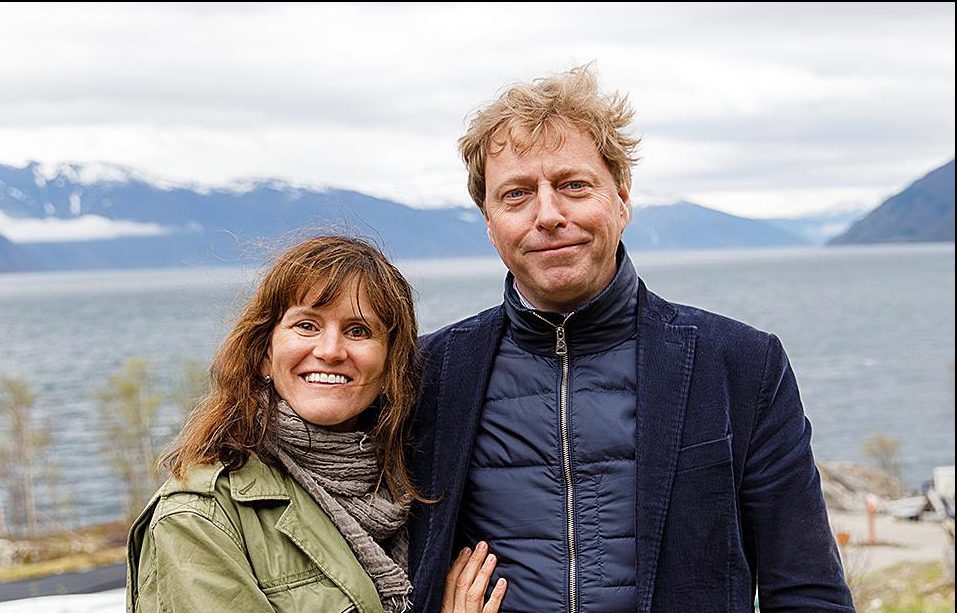 The Fish Site's Rob Fletcher was also part of a panel made up of leading industry professionals who awarded the Outstanding Contribution To The Industry prize to Amy Novogratz, co-founder and head of Aqua-Spark, at this week's 2020 Aquaculture Awards.
Novogratz was also praised by the Fish Site on Twitter for her an interview in Forbes. In the interview, it was revealed that Aqua-Spark's holdings in 19 portfolio companies were valued at USD 180 million. In 2019, it posted a net internal rate of return (IRR) of 21.75%.
Fantastic to see Amy Novogradz from pioneering #aquaculture investor @AquaSparkImpact on the cover of the latest @Forbes magazine https://t.co/1aFgzuiG1t

— The Fish Site (@thefishsite) September 10, 2020
SalmonBusiness asked Fletcher what was behind his decision to award Novograts the prize. "After a lengthy debate Amy was unanimously voted the best of the entries for this category by all the judges present," he said.
When pressed about his role in the decision-making process, Fletcher said: "Unanimous means that yes, I did vote for her. And if you did your research you will see that the judges' decisions were made several months before TFS had been acquired by Hatch, nor is Hatch owned by Aqua-Spark (although they do have a stake in it) so there's no conspiracy".
PART TWO: Hatch on the Fish Site: "I agree with you on the matter of transparency"