The autumn merger probes are not over.
This autumn, floods of rumours arose after it became known that merger talks were ongoing between the two fish farmers Norway Royal Salmon (NRS) and NTS's wholly-owned subsidiary Midt-Norsk Havbruk (MNH). Eventually, the rumors became so widespread and loud that NRS and NTS, in a joint-stock exchange announcement, confirmed that there were was some truth in them:
"There are probes going on, but the outcome of these is currently unclear. Any further information will be made public at the appropriate time."
On November 16, the parties announced that they were scrapping the merger talks. In a joint announcement, NTS and NRS said about the possible merger: "These probes have now ended and the companies are continuing their operations as before."
Barter
The merger plans had been given extra life as salmon farming veteran Helge Gåsø a major owner in both farming groups. That the former Frøya Holding, Hydro Seafood and Midnor boss would merge their fish farming interests has not been a well-hidden secret.
A week later, on 23 November, it became known that NRS, Måsøval and NTS were striking a swap deal. This apparently ended the talks about merging.
But the idea of a merger between the two fish farming companies was not over. On the contrary. The trade opened up new opportunities.
Single control
SalmonBusiness has been given access to a partially redacted document that Arntzen de Besche Advokatfirma has sent to the Norwegian Competition Authority. The document "applies to the NTS Group's acquisition of the de facto control of Norway Royal Salmon."
The backdrop for the document is the Norwegian Competition Authority's assessment of NRS and NTS's overall market share in the wellboat and service vessel segments.
"There are also two vertically bound markets, the market for wellboat services and the market for other service vessels for the aquaculture industry. In both of these markets, NTS is a current and potential supplier to NRS, but neither party has more than 30 per-cent market share. In any case, the corporate union will have no exclusion in any market," said law firm Arntzen de Besche.
NTS's legal team in particular emphasised the transactions that were disclosed on November 23rd of November. Then, as mentioned, two share purchase agreements were entered into between Måsøval Eiendom and MNH. Måsøval sold its ownership stake of 12.8 per-cent of the shares in NRS to MNH with settlements in shares in the Icelandic salmon farmer Ice Fish Farm. At the same time, Måsøval sold 15.8 per-cent of the shares in the investment company Havbruksinvest to MNH against settlement in Ice Fish Farm.
Largest
Måsøval, which was the largest single shareholder in NRS, then left the ownership list in the fish farmer. Havbruksinvest uprooted it as the third largest NRS owner. The largest shareholder in Havbruksinvest is Helge Gåsø, through Gåsø Næringsutvikling, which owns 29.5 per-cent of the shares.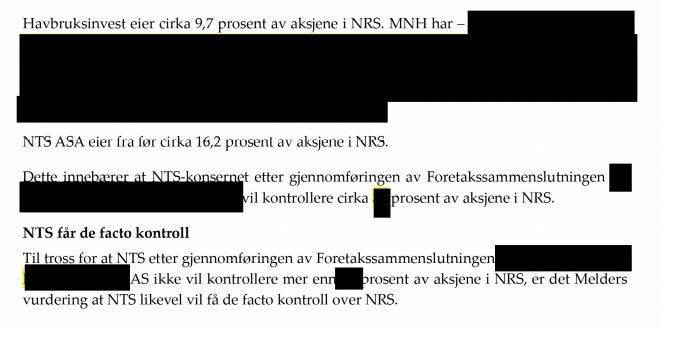 Gåsø thus controls 9.2 million NRS shares, via the Frøy Group and Havbruksinvest. As the largest owner (39 per-cent) in NTS, he also controls Måsøval's old ownership stake (now owned by MNH) of 5.6 million NRS shares, as well as NTS shareholding of just over two million NRS shares.
In total, this constitutes 16.8 million (38 per-cent) of the total 44 million shares outstanding in NRS.
The law firm based its assessment of "de facto control" of NRS in the following circumstances.
Anti-competitive
A merger between NTS and NRS will not be approved until it is approved by the competition authorities. The issues here are, as mentioned, related to whether NTS and NRS will achieve significant market power or competitive effects in the wellboat and farm service boat fish farm segments.
Arntzen de Besche argued that will not be the case.
SB has contacted Helge Gåsø and CEO Charles Høstlund of NRS for comment. None have yet answered inquiries.