New 60,000 tonnes-a-year facility, built on world's largest corn processing site, will be first in the United States.
In a press release, the French biotech company Innovafeed writes that it has opened the world's largest insect protein production site in Nesle, North of France. This means that black soldier fly protein for salmon can be rolled out thanks to its annual 15,000 tonnes production capacity.
InnovaFeed uses co-products from the agriculture production of starch and sugar to feed black soldier fly larvae known as Hermetia illucens. Once the larvae reach a certain stage, protein and oil are extracted from the larvae to be used in feed for aquaculture. The company is partnered with Tereos, a cooperative sugar group in France that processes agricultural raw materials into sugar, alcohol and starch.
Since 2017 InnovaFeed has partnered with French retailer Auchan to launch "insect-fed" trout.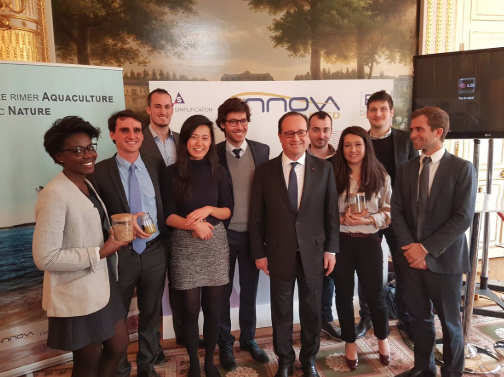 Additionally, it was announced that Innovafeed's next production site will be in the United States, the country's first, with the signing of a partnership with agro-industry leader ADM (Archer-Daniels-Midland Company). This will be built on America's agricultural site (and the largest corn processing site in the world), in Decatur, Illinois. Construction will begin in 2021, and with an expected production capacity of 60,000 tonnes of insect protein per year. ADM Decatur's corn-based by-products will be locally upcycled to feed insects.
As part of the operational launch of the Nesle site, InnovaFeed resident and co-founder Clément Ray said: "The operational launch of the Nesle site is a decisive step for InnovaFeed and more broadly for the entire industry. Indeed, thanks to the expertise of our teams and our breakthrough technology, we have been able to build an industrial model capable of reconciling very large-scale production and respect for the environment".
The Cargill-backed company added that it had EUR 140 million in new fundraising, bringing the total financing of InnovaFeed to EUR 200 million to "accelerate its international development". Investment companies Temasek and Creadev are shareholders in the company.
"Over the past months, the commissioning of the Nesle site and the signing of contracts with players such as Cargill and Italpollina have confirmed this potential. We are therefore delighted to reinvest in the project today to deploy this technology globally," said Creadev Deputy CEO Jean-Baptiste Bachelerie.
This fundraising will contribute to the future development projects of InnovaFeed in France, but also internationally, with the construction of new sites planned in South-East Asia, and more in the US.