But the report for the first quarter was in line with analysts' expectations.
Mowi's stock price on the Oslo stock exchange ended up 0.9 percent on Wednesday, after publishing a first-quarter update that was close to the Infront consensus.
The company expects an operating profit of €207 million in the first quarter, against the consensus expectation of €205 million. The harvest volume was 97,000 tonnes, against consensus and the company's own guiding of 98,000 tonnes.
Also read:  Mowi nearly doubled its first-quarter result
Kepler Cheuvreux writes, according to TDN Direkt, that the big surprise in the update was that Canada delivered an operating profit of €2.55 per kilo, compared to the Infront consensus of €2.04 per kilo. Investment bank Meglerhuset explains this by saying that spot prices in Canada have been high, at the same time as the company's contract share has been low.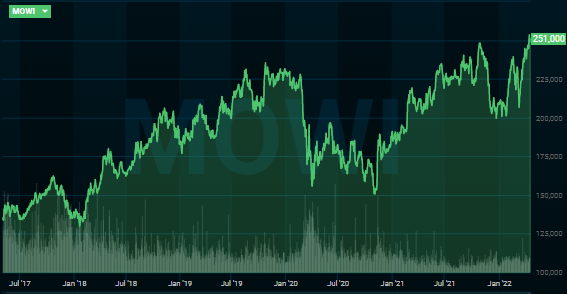 Fearnley Securities points out that the net interest-bearing debt was reported at €1,180 million in the quarter, well below the target of €1,400 million, and thus believes that there may be an extraordinary dividend above the target of 50 percent of earnings per share for the second quarter.
"In summary, an update in line with expectations, but it is positive to see that the strong salmon market materializes in Mowi's earnings, with an operating profit back at pre-pandemic levels. We expect limited changes in consensus after reports ", it says from the brokerage.
On Wednesday, SalmonBusiness reported new price records for salmon .