Fish was sold frozen at low commodity prices.

In a statement, the Chile-based Nova Austral, which is jointly-owned by private equity firms Altor and Bain Capital, has posted its Q3 results.
Nova Austral reported an increase of 26 per-cent in revenues, reaching USD 39.7 million in the third quarter of the year compared to the same period of 2019.
EBIT was USD -11.7 million, compared to USD 2.8 million the year before.
The salmon farmer said that higher revenues were down to higher volumes sold adding that Russia and the USA have been the main drivers of the sales increase.
It sold 4,800 tonnes of fish in Q3. 4,200 tonnes of that was frozen. No sites were harvested in Q3.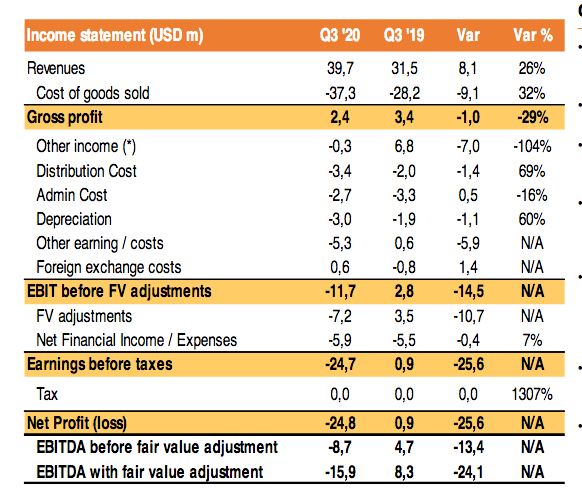 The company was affected by low market prices as well as "extraordinary costs and expenses".
Regarding prices, Nova Austral sold 2,900 tonnes of frozen stocks at low commodity prices (USD 4.75/Kg vs USD 11.44 for the remaining volume sold). Expenses included a USD 2.4 million loss from JV with Trusal (hit by the ISA outbreak at one of its sites). USD 0.9 million costs in farm sites that could not be stocked due to negative INFAs and USD 0.9 million in costs for Beagle Channel licenses.
In 2019 the salmon-farming company located on the far southern tip of Chile, was at the centre of a data rigging allegation and in 2020 subsidy fraud. Nova Austral denies wrongdoing. Due to slow legal processes in Chile because of COVID-19, there was no update in this respect.
Nova Austral has had to incur legal expenditures associated with the internal investigation and the defense in different lawsuits. It subtracted USD 0.3 million in extraordinary legal expenses, and USD 0.1 million associated with "severance payments for reorganisation".
It added that no Navarino Law, a law that exempts it from income tax, was accrued due to the lack of own harvest during 3Q-20 (during 3Q-19 amount accrued was USD 6.8 million). But it has now started to get compensation from the filings from the beginning of 2020.
"The Covid-19 pandemic is challenging for the industry. We are taking all the needed efforts to secure our employees and maintain the food supply chain together with core customers. Salmon prices got a hard hit in the last months, and we hope the new vaccine will help the industry to recover some of the business lost in 2020 during 2021", said the company presentation of the financial results.
Nova Austral said it was aiming to achieve an annual harvest volume of 16,000 tonnes this year, lower than 2019's 21,600 tonnes.