Aquabounty seeking to raise $320 million for new Ohio fish farm.
In a press release issued on Tuesday, land-based aquaculture company AquaBounty provided a progress update on the company's planned 10,000 tonne salmon farm in Pioneer, Ohio.
The company plans to begin construction of the RAS complex by year-end, with commercial stocking of salmon estimated to occur in 2023.
Read more: AquaBounty to locate new GM salmon farm in Ohio
The project had previously been estimated at $200 million, but according to Sylvia Wulf, Chief Executive Officer of AquaBounty, these have crept up, "As we've progressed on the final design for our 10,000 metric ton Ohio farm, we have been able to further refine our expected project cost, which we estimate to be in the range of $290 million to $320 million, including a reserve for potential contingencies of $30 million.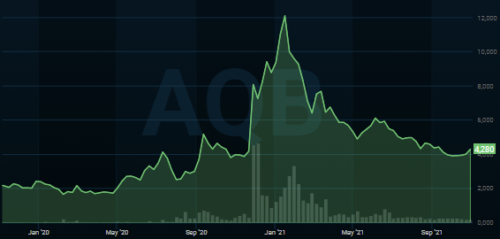 Rising costs
The company says the increase from previous estimates is attributable to several factors, including the cost of building materials and the Recirculating Aquaculture System technology, along with the inclusion of an on-site processing plant and water treatment facility.
Wulf continued, "As we've stated before, our capitalization plan for financing the farm project includes leveraging our equity contribution with debt. To that point, we have begun the process for the placement of a mix of tax-exempt and taxable bonds through the Toledo-Lucas County Port Authority, whose board has approved the issuance of up to $300 million in bonds to support the financing of the project."
"We have also engaged Wells Fargo Corporate and Investment Banking to underwrite and market the bond placement, which we expect to complete in Q1 2022. Though there is still work to be done to close this transaction, we believe that this financing will be a major milestone for the Company."
Transition away from GM
To support the egg requirements of the Ohio farm, Wulf said the company "made the decision to transition our Prince Edward Island, Canada grow-out farm operation to the production of traditional salmon broodstock, eggs and fry, in addition to our genetically engineered salmon eggs."
This transition is expected to occur over the next two years and increase egg production capacity from 8 million to 30 million eggs annually.
"There is an increasing demand for traditional salmon eggs in North America and so our increased egg production capacity is expected to supply both our own needs and create an additional revenue stream from traditional salmon eggs."