Lucrative cross-border trade continues.
Running at a speed of 10.6 knots, "Tromsø Anchorage" is the destination the wellboat has entered in the satellite system AIS. It will not announce the fact that it is on its way from Norway to the submarine fjord Ura Guba on the Kola Peninsula, loaded with smolt. Monday morning, "Ro Fortune" crosses the Varangerfjord, and enters Russian waters.
As far as SalmonBusiness is aware, the customer, Russian Aquaculture's veterinarian Maria Khayanen, has previously flown in to Bergen, via Istanbul, to approve the cargo before departure. The smolt supplies from Norway are absolutely crucial to keep the wheels in motion for Russian salmon farmers.
Read also: Multinational companies are withdrawing from Russia, but fish feed deliveries are continuing
More of the same errand
In the same way as feed suppliers Cargill and Skretting, the wellboat shipping company Rostein continues to serve its Russian customers – apparently unaffected by the war of aggression in Ukraine and the fact that the Russian fish farms are located in fjords controlled by the Northern Fleet.
Read also:  Feed boat "Aleksander Gusev" sets course from Cargill Bergneset to the submarine fjord on Kola
But the 82-meter-long "Ro Fortune" is not the only Rostein boat on its way to Russia this week.
After loading smolt, in torrential rain, the bright blue "Ro Venture" protruded from Nesfossen Smolt by the Lurefjord, just north of Bergen. It had a long voyage ahead of it. During the weekend, "Ro Venture" has done away with large parts of the Norwegian coast, on its way to Russia.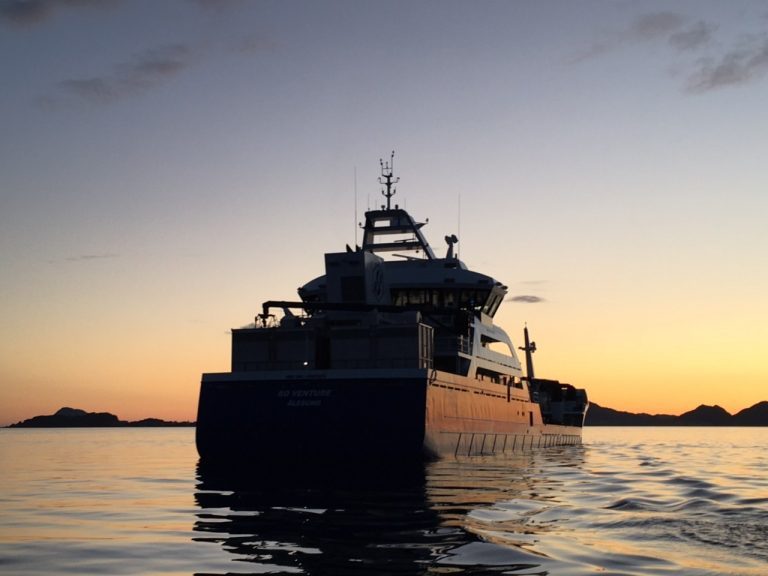 Best paid
According to Marine Traffic, the vessel is sailing along Arnøya in North Troms at the time of writing. The course is set to the east. Here, too, the AIS destination is turned off.
"Normally the trips go in the middle of May to the beginning of July. These have been the highest paid assignments," a person with in-depth knowledge told SalmonBusiness, discussing the smolt traffic.
Read also: Milarex with message of concern to Norwegian breeders who buy feed from Russia suppliers
SalmonBusiness has repeatedly in the last week contacted shipping management in Rostein for comment on this year's smolt shipping to Russia. No response has currently been received.
While the main competitor Sølvtrans, for ethical reasons, has already halted shipments to Russia, Rostein chooses to proceed with the lucrative contracts.