The Ukraine war is in its seventh day. There is little indication that the fighting will be discontinued any time soon. This can be seen in the food industry, where Russia is the world's largest exporter of wheat while Ukraine is the third largest.
According to Bloomberg, wheat prices on the Chicago Commodity Exchange will rise on Wednesday to their highest level in 14 years. Not since the commodity boom ahead of the financial crisis in 2008 has it cost more for wheat.
Read also: The Ukraine war can make fish feed much more expensive
Chicago #Wheat 1027 +9.82% pic.twitter.com/scoBQJzotD

— IGSquawk (@IGSquawk) March 2, 2022
Export
The two warring parties are also big players in both corn and barley. The vast majority of these products are shipped by bulk carrier from the port cities on the Black Sea and through the Bosphorus Strait near Istanbul. Historically, up to 40 per cent of Russia's exports have passed through the Black Sea.
Turkey closed the strategically important Bosphorus Strait earlier this week. It happened after a series of attacks on cargo ships and tankers in the Black Sea. Among those hit by projectiles was the 200-meter-long Cargill cargo ship "Yasa Jupiter". Cargill is the world's second largest producer of fish feed.
A large number of shipping companies, including Maersk, MSC, NAT and Frontline, have announced that they will no longer serve ports in the Black Sea.
No one buys more food and feedstuffs than China. Chinese authorities have ordered the prioritization of energy and raw material security. According to Bloomberg, China is now asking for prices for oil, gas, iron ore and grain, among other things.
China's top government officials have issued orders to secure energy and commodity supplies, sparked by concerns over disruptions from the Ukraine-Russia war 🇨🇳💰

State-owned buyers to scour markets for oil, gas, iron ore to fill any potential gaphttps://t.co/qfJezaIVwI

— Stephen Stapczynski (@SStapczynski) March 2, 2022
Seeds
As if that were not enough: Russia and Ukraine are also major producers of fertilizers. Fertilizer shipping also stops now. Earlier, Yara boss Svein Tore Holsether warned of an impending food crisis.
"If you do not get nitrogen fertilizer on the soil, the grain crop will fall by 50 per cent in the first year. So you could go from an energy crisis to a food crisis here," Holseter told Finansavisen.
Furthermore, if the war continues, it will be challenging to sow new grain in the vast grain fields of Ukraine and southern Russia. This in turn will cause lasting supply problems of grain.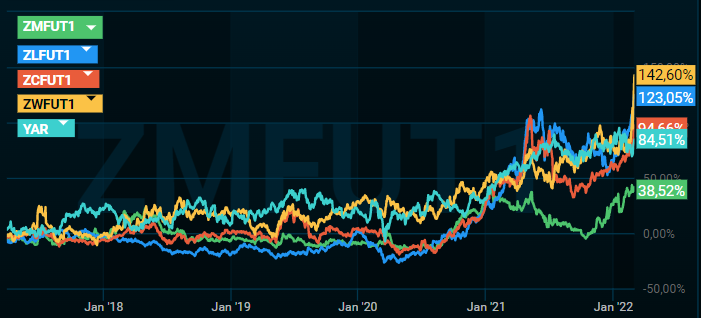 This in turn has pushed up forward prices for a number of grain products, including substitutes such as soybeans, rapeseed and sunflower.
Flour and vegetable oils are essential ingredients in fish feed for farmed salmon. Now the farmers have to prepare to pay significantly more for the feed.