At least investment banks Pareto Securities and Sparebank1 Markets think so.
The duo's salmon price assumptions are EUR 5.6 and EUR 5.8 per-kilo respectively on average for the whole of 2021. Sparebank1 Markets' analyst Christopher Robin Winter emphasised Fish Pool's forward price in particular when he looked into the crystal ball for next year:
"The 2H21 salmon forward price has increased from a low of NOK 53 (EUR 5 .ed) per-kg to NOK 55 (EUR 5.1 .ed) per-kg. We believe the 2H21 price will continue to increase considering that supply is looking tight from next fall and it is becoming increasingly likely that vaccines will allow society to open fully up by next fall. The salmon forward price for 2021 is NOK 56 (EUR 5.2 .ed) per-kg," Winter wrote in his most recent analysis.
He put this year's average price far above Fish Pool's forward price. EUR 0.5 is quite ambitious. Analyst competitor Carl-Emil Kjølås Johannessen is not much worse off, with averages of EUR 5.6 next year.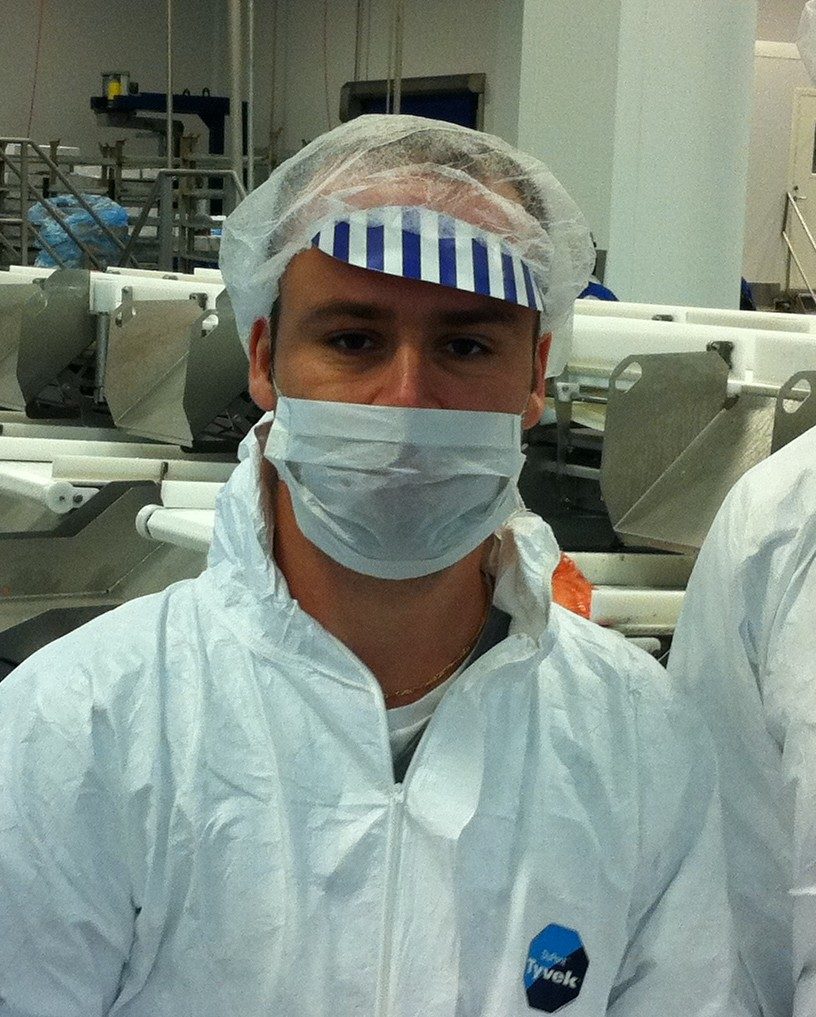 The price trajectory means that 2021 will be the best salmon year since 2016 if the two analysts are right in their estimates. The COVID-19 trouble will be blown away if one should believe the high paid analysts.
Risk
The price tips from the financial hub seem to be in excess of optimism, for several reasons.
Both price estimates are comfortably higher than Fish Pool's forward price, which has consistently exceeded the realized spot price throughout 2021. This forward price has not caught up with the issues on the demand side this year.
Both's key argument is zero growth in the world's salmon production next year. "Here are the risks on the upside", to use their own jargon. A long line of salmon farmers have already warned the market that they will push out the planned harvest, from 2020 to 2021.
Norwegian feed sales this autumn have been formidable. In October, it was 15 per-cent higher than the same month last year. Fish with high average weights have a ferocious appetite, and a mild autumn harvest still provides good growth conditions in the sea. If we also have a mild winter, there will be even more biomass to feed on.
Norwegian salmon biomass is estimated by Kontali Analyse and Akvafakta to be between 837,000 and 850,000 tonnes. A new high score. 8-9 per-cent over last year. The fish are larger than before and there are many individuals.
This doesn't just apply to Norway. According to the Chilean analysis agency Aquabench, the country's average harvest weight is 6.01 kilograms. This is 830g above the same time last year. The market is overflowing with big salmon, which are currently sold at a discount to the "industrial fish" of three to six kilograms.
There are plenty of fish to harvest, and the potential to feed up more meat weight is certainly present. High average weights needs fewer salmon individuals to fill up a harvest and a truck.
The fish are doing well. There are low lice levels, both in Norway and Chile. They are growing and thriving.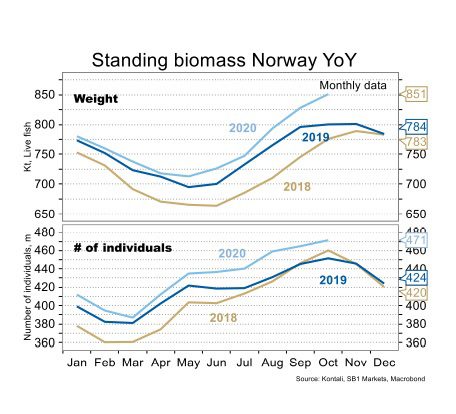 Much on the freeze
But it is not only in the sea there are high inventories. There are also plenty of fish in freezing warehouses in Europe and Chile. Processing companies across Europe, even some Norwegian exporters, have frozen fish at their own expense and risk. Chile will have a freezing stock of between 50,000 and 60,000 tonnes of salmon. The freezing stockpiles are historically high – much higher than the infamous "salmon mountain" of 1991.
This fish will, for the foreseeable future, go straight into the sales competition with fresh salmon, especially since many supermarkets' fresh food counters are currently closed. SalmonBusiness knows that Chilean salmon farmers have signed contracts in the first half of 2021 at prices around USD 4.20, customs cleared and delivered to customers in Europe. Norwegian salmon farmers are offered physical annual contracts at levels around EUR 4.7-EUR 4.9 for 2021.
The first Covid-19 vaccines are being rolled out now before Christmas. It is the public view that significant parts of the population in the major salmon markets will be vaccinated at the earliest this summer. The first half of 2021 will consequently be characterised by shutdowns and a still-faltering Horeca sector. Salmon sales will primarily be driven by the grocery sector, a group of buyers that can not be accused of driving prices up.
Casino
Against this backdrop, an assessment that suggests a jump of over 50 per-cent in the salmon price, from current spot price levels, seems unlikely.
Looking at 2021 as a whole, where the average price (for salmon farmers) after signs it most likely will land around EUR 4.9. Pareto and Sparebank1 indicate in their estimates, of EUR 5.6 and 5.8 respectively, an increase of 13 and 17 per-cent respectively. This suggests a full price party next year.
But one cannot have spent many minutes at one's nearest supermarket or favourite restaurant to see that it appears to be blue-eyed optimism.
So what is the motivation for investment banks to be so high on price when so many arguments speak out against it?
On a general basis; primarily since investment banks are driven by transactions. Not increased share prices, but the turnover of shares. They get a commission for every trade. Most investors are "long-only", that is, they will only buy (not short-selling) shares. As one invests in the stock exchange, one implicitly believes that one will be able to make it sharper than risk-free interest rates. The stock exchange is a casino, where the optimists are in an overwhelming majority. They are seeking arguments for buying shares. High price assumptions also sweeten relationships with salmon companies and can help them get corporate assignments. This places high demands on the integrity of analysts and investment banks.