The SalMar boss will take up the fight with the help of salmon farms in the open ocean. Initially, he is aiming for 150,000 tonnes.
"The current licensing regime (traffic lights) applies to production areas stretching 20 and 30 nautical miles respectively outside the coastline. Within the coast, we also have exposed areas. The more exposed areas, even within that, cannot be operated with traditional equipment," SalMar CEO and founder Gustav Witzøe told SalmonBusiness.
Worth listening to, nobody has earned more money from salmon than Witzøe.
"The area we've applied for is 50 miles off the coast. This area is not regulated by the Planning and Building Act, nor has there been any general licence system established for these open waters, " he said.
More weather
"We now submitted this application for an area licence to the Directorate of Fisheries a week ago, and the Directorate has submitted the application for public consultation and to relevant sector authorities," he continued.
"The further out one goes, the more wind and weather there will be. If there is extreme weather at the coast, you can go out by wellboat and take care of the fish or in certain cases take it out. We can't do that at the open ocean and the facilities must be more self-reliant," he pointed out.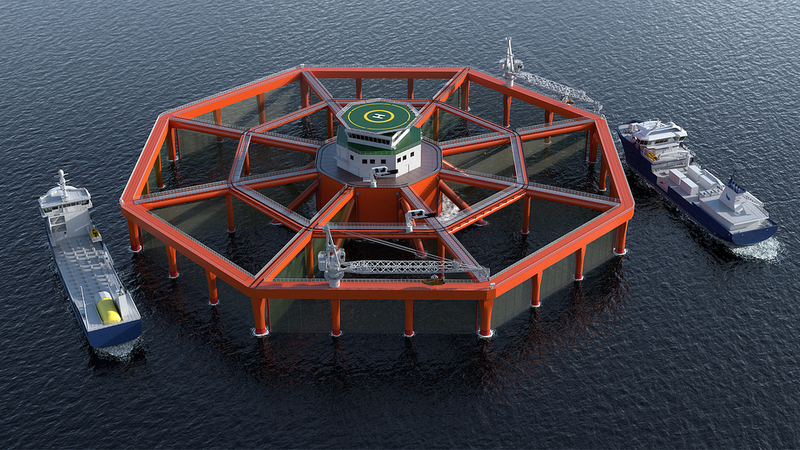 150,000 tonnes
Authorities have received an application from SalMar's subsidiary Ocean Farming for a site in the Norwegian Sea, west of Trondheim.
In the long term, the company envisions that the area it has applied for can be fully developed, with a total annual harvest volume of approximately 150,000 tonnes of salmon. It will, in turn, require a direct investment of EUR 1.2-1.3 billion, reported the news site E24.
"Our biggest challenger is land-based facilities, which will give the foreign salmon industry a competitive advantage because they are much closer to the major markets," Witzøe to SB. "Look at Johan (Andreassen, Atlantic Sapphire founder .ed) and those in Miami. They will produce fish "made in USA", and get a price premium on it," Witzøe added.
"I have every possible respect for what they do. Norway's response must be to ensure sustainable growth in open ocean farming in the fantastic areas along the Norwegian coast, which has not yet been adopted for this purpose. I still believe that salmon thrive best in their natural habitat, but the production methods for land-based farming are also steadily improving," explained Witzøe.
Unique
"Would you invest in land-based farming?" he asked rhetorically. "The Gulf Stream and the North Atlantic salmon strain are unique. The Gulf Stream can't move. But the North Atlantic salmon strain can move. It is long ago in place in Chile. I want to be true to Norwegian salmon farming in the open ocean," Witzøe emphasised.
The country's Minister of Fisheries Odd Emil Ingebrigtsen said he was positive about SalMar's application.
"The company is in a good process with the Directorate of Fisheries, but there are some challenges that need to be solved. Among other things, other activities in the area should be taken into account, especially fisheries," Ingebrigtsen told E24.
He also pointed out that the site in question is actually regulated for oil activities. "But there is no such activity there today, so I think this will find its solution," said Ingebrigtsen.