The international financier, company architect and "holistic strategist" Petter Kleppan is based in Palma, Mallorca. But several of his companies are registered and woven close together in Steinkjer, Norway.
Steinkjer is probably best known for the shopping centres, close to the E6 motorway. It's not exactly a financial metropolis. But venture capitalist Petter Kleppan has based his densely masked network in the lumber and agricultural town. Here is the core of Kleppan's portfolio and network of venture companies.
But why Steinkjer?
"Kleppan accessed money in Norway here," said a source with good knowledge of the case.

Silicon Valley
Petter Kleppan is presented by a number of independent sources as the brains behind the start-up company CageEye's and its journey out of the ranks of anonymity and into the club for companies that value themselves at over EUR 100 million. The methods Kleppan has used, he learned in Silicon Valley.
Start-up companies need angel investors and seed capital. And there is an advanced network of venture companies Kleppan has spun.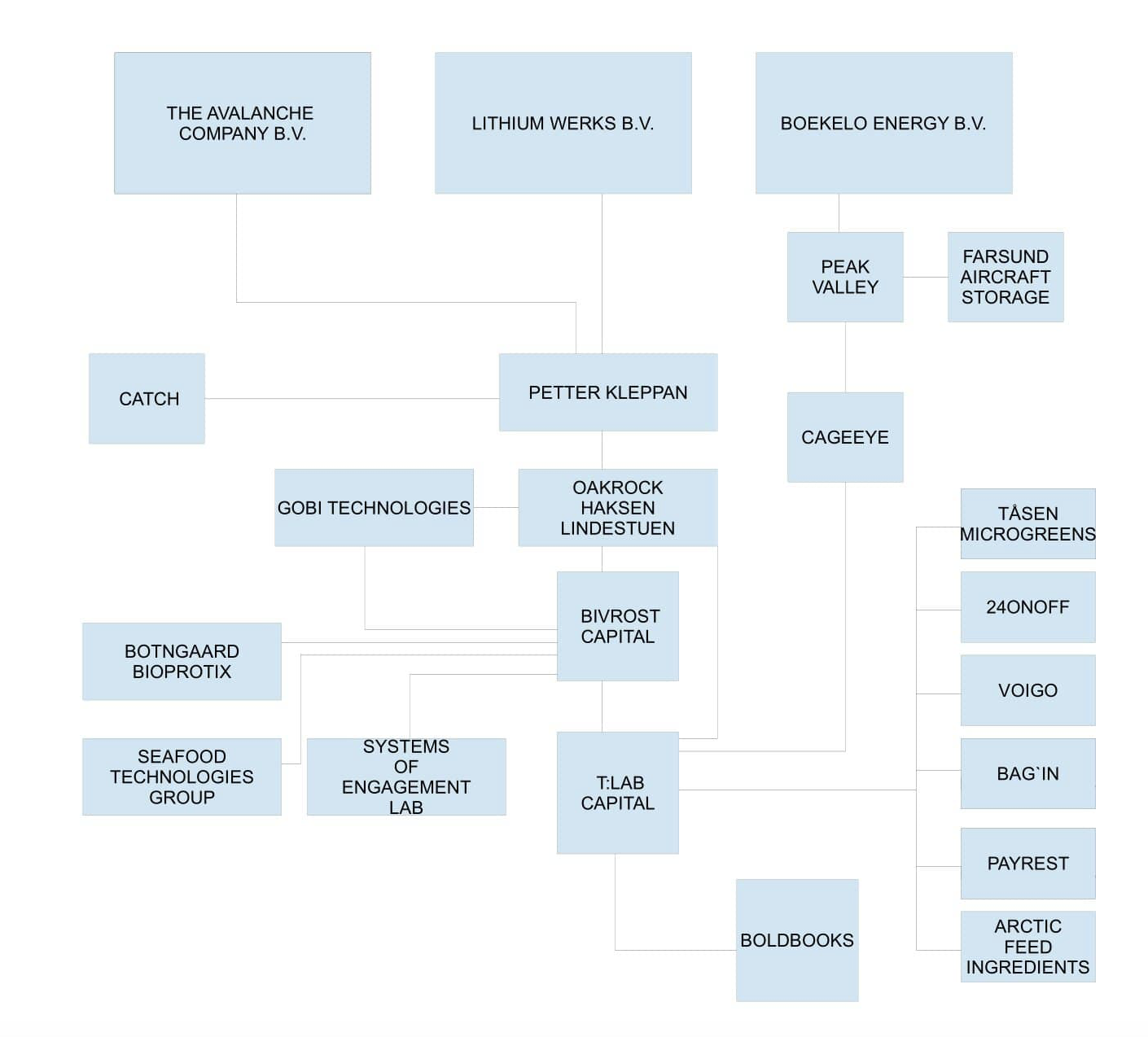 On his LinkedIn profile, Kleppan presents himself as "co-founder of Lithium Werks and helped secure LW giga factory support from China."
In addition to working with the Dutch battery company Lithium Werks, Kleppan is also a partner in the Dutch communication outfit The Avalanche Company, along with Marloes Eshuis. The latter is also CageEye's communications manager.
Venture
Furthermore, it says: "In the past, Petter Kleppan performed investment activities in Oakrock Haksen Lindestuen AS where he is the Executive Chairman. OHL AS has ownership interests in other venture capital companies like Bivrost Capital, T-lab Capital."
The latter venture companies are based in Steinkjer.
What appears to be the most important undertaking in Kleppan's network holds the original name Oakrock Haksen Lindestuen (Oakrock). No employees are registered with the three-year-old investment company which has its business address in Molovegen 19 in the newly built district of Jæktbyn in Steinkjer. Here, Kleppan is registered as chairman and 100 per-cent owner.
Among the companies Oakrock owns is the consulting company Seafood Technology Group, which went bankrupt earlier this year. Also owned are Botngaard Bioprotix, and Gobi Technologies, the app developer that Oakrock/Kleppan owns along with, among others, the billionaire SalMar heir Gustav Witzøe Jr and Winter Olympic cross country skier Petter Northug.
View this post on Instagram
CageEye, where Kleppan is a board member, is also registered in Steinkjer, although the company is operated from the Postgiro building in Oslo. Among CageEye's owners is Peak Valley, registered in the industrial town of Skogn. The company, where Kleppan is chairman, was established in 2019. Peak Valley, which is owned by Boekelo Energy BV, owns 3.37 per-cent of CageEye. Peak Valley's postal address is in Hengelo, Netherlands.
Seed
Bivrost Capital, registered in Steinkjer, is 45 per-cent owned by Oakrock. Here Kleppan is also chairman of the board. Bivrost is, according to Kleppan, an early-stage fund for two families in Oslo. At the end of 2018, the company had negative equity.
Petter Kleppan is chairman of T:Lab Capital in Steinkjer. Here, Oakrock owns 10.9 per-cent and Bivrost Capital 10.9 per-cent. T:Lab, which defines itself as a "pre seed investor," owns 4.08 per-cent of CageEye. At the end of 2019, the company's book equity was EUR 0.2 million.
Neither Chairman Petter Kleppan nor the CEO of the company, Håvard Belbo, are particularly interested in taking to SalmonBusiness.
"I don't want to go into this," Belbo told SalmonBusiness.
T:Lab Capital is 27.4 per-cent owned by T:Lab, which is largely based on public funds. T:Lab is owned by SIVA – The Company for Industrial Growth (29.5 per-cent), Nord-Trøndelag Elektrisitetsverk (29.3 per-cent), Steinkjer Næringsselskap (25.8 per-cent), Nord-Trøndelag County Municipality (5.3 per-cent), Gjensidige Forsikring (4.3 per-cent), as well as Ligna, COOP Steinkjer and By Brug with 0.8 per-cent each. At the end of 2019, T:Lab had a balance of EUR 0.8 million.
Receivables and liabilities
Neither Bivrost Capital nor Oakrock has so far registered their financial statements for 2019.
Oakrock is particularly interesting in this context. Especially since the company has a balance sheet of EUR 64 million, of which EUR 62 million is debt. The assets are mainly "investments in stocks" and "long-term receivables". The largest investments are in Dovre Energy (EUR 31 million) and Energy Investments BV (EUR 20.7 million). Of the company's receivables, totalling EUR 32.5 million, EUR 31 million is to Brickwork and EUR 1 million to Lithium Investments BV.
Oakrock's long-term debt, of EUR 60 million, is loans from four companies:
Brickwork had a balance of EUR 63 million at the end of 2018 and a debt of the same amount, EUR 63 million. The company was dissolved in December 2019 after a merger with its parent company Umbrella Holding. Umbrella Holding is an investment company in Oslo with EUR 0.1 million in equity and EUR 0.6 million in assets at the end of 2018. Umbrella Holding is run by Oslo investor Christian Ringvold, the husband of golf star Suzann "Tutta" Pettersen. Ringvold is also among the founders of Lithium Werks, which is building a EUR 1.2 billion battery factory outside Shanghai, China.
View this post on Instagram
Dovre Energy (formerly known as Mammon Invest) realized in 2018 a gain of EUR 88.5 million, which is also identical to the book equity company. According to the annual report, the aforementioned gain was "a dividend in the form of receivables from four cooperating companies." It further states that "the claims are related to the sale of a subsidiary and are considered to be long-term." Dovre Energy was deleted in November 2019, following the takeover of Teknia (owned Knut H. Nylænde), Umbrella Holding (owned by Christian Ringvold), and Oakrock.
SalmonBusiness has been trying for several days to get a comment from Petter Kleppan. So far, he has not replied.