According to Chairman Ståle Spjøtvold, CageEye wanted neither technology, inventories nor expertise when they bought the underwater camera specialist Sealab.
On August 26, a meeting of shareholders of the subsea camera company Sealab Ocean Group was convened. On the agenda was the processing of the rather complex offer document from the start-up company CageEye related to the agreed sale of subsidiaries Sensomar AS and Sealab AS.
CageEye has since late winter this year called itself Bluegrove, although this company name is still not registered in the country.
The meeting was chaired by Sealab Ocean Group's chairman and lawyer Ståle Spjøtvold. The attendance consisted of representatives from the seven investment companies that make up the ownership structure of the firm.
Minutes
SalmonBusiness has been given access to detailed minutes prepared by one of those present at the meeting. Here it is stated that several of the shareholders may not have fully understood what the offer document entailed.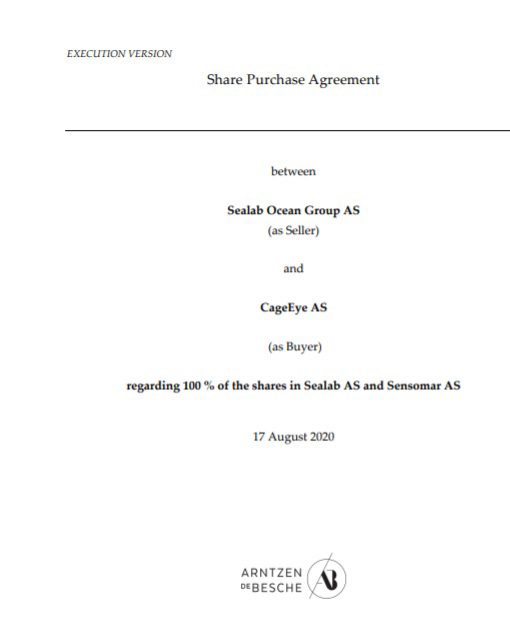 Spjøtvold began about the background of the meeting, the sale of the two subsidiaries.
"We did that to safeguard the creditor community, avoid bankruptcy and save jobs. And in an effort to salvage some of the shareholder value inherent in the company," he said.
But the sale also involved an agreement to buy shares – in the acquirer CageEye.
Dowry
"I have also explained that to you in an email. Friday, August 21. There is an investment opportunity in CageEye. This sale to CageEye, it comes with a dowry, in a way. If you are going to take advantage of the entire settlement that CageEye has offered in this purchase. That's why we are having this meeting here today, to look at the interest in helping to fund this dowry. Which in turn has implications for the settlement one would achieve," Spjøtvold said.
A year earlier, CageEye, which was then on track to revenues of EUR 0.4 million. on an annual basis, had placed a bid for Sealab. Price tag? EUR 21 million. It was money CageEye didn't have. Therefore, Sealab was offered shares in CageEye, priced at an astronomical EUR 120 million.
Bargained down
Over the coming months, the price tag for Sealab, in line with ailing liquidity, was reduced – to EUR 9.5 million. Though the settlement was still in shares.
However, the acquisition offer was conditional on the cancellation of the Sealab debt, of EUR 1.1 million, by shareholders participating in a share issue in CageEye. Those shareholders who could not or would not participate in the CageEye share issue, would be dilluting their assets.
"Then it's a penny for penny reduction in settlement," Spjøtvold explained.
Several of the shareholders argued that the offer document was complex. Among them was Finn Viktor Willumsen, who represented Marin Aqua:
"I think their whole set-up seems so complex. I'm not a financier, that means I think it's very much this and that in their setup that I don't understand. I spoke to another one of the shareholders, who was not in the meeting, he had the same thought and, that he finds it quite difficult to understand all the steps you have done," Willumsen said.
"If it's possible to say something even more concrete what's going on in the different steps. Then I could have understood it. Because I'm not sure what to ask is simply because I haven't quite understood what you're chasing," he added.
Pricing documentation 
Spjøtvold pointed out that fundraising and valuation was to highlight the exchange and values between the two parties.
"Sealab was then priced at NOK 105 million (EUR 9.5 million .ed). CageEye was priced at 1.2 billion (EUR 109 million ed). And that is proportionate to what we have received compensation shares for," Spjøtvold clarified.
"So I agree with you that the transaction is complicated, but the thing is that CageEye, to take over Sealab, was looking for three things. One was the shareholders behind, which they could have envisioned to get into the ownership side of CageEye and Bluegrove. The other was the staff, the expertise one had there. And the third was to get documentation of their pricing on the company of 120 million euros, which they will spend further in the series-b issue. So that was probably the three goals CageEye had in connection with the purchase. I think," the chairman summed up.
CageEye has for many months communicated its far-reaching plans to raise money. Therefore, it was important for them to gain acceptance for this valuation. On Monday, SalmonBusiness revealed that investment bank DNB Markets, which CageEye has been communicating for months as the company's financial adviser and facilitator, is not at all was engaged in the fundraising.
This has also CageEye, since confirmed.
"We have been in dialogue with DNB, but we have not signed an agreement with them," Marloes Eshuis, communications manager at CageEye, told SalmonBusiness.